EDUCATIONAL OBJECTIVE
This course is designed to ground students in the basics of the IT industry. This course is 2 weeks in length. Subjects to be covered include:
Software and Hardware
Operating System Software
Common File Types
Software Management Best Practices
Alternative Software Technologies
Basic Software Features and Functions
Basic Wired and Wireless Peripherals
Common Computer Connector Types
Internal Computer Components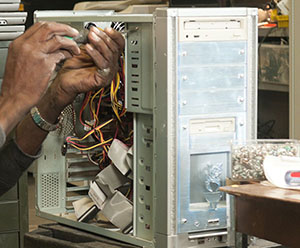 IT Literacy

Setting Up a Basic Workstation & Demo
Basic Methods of Navigating an Operating System and Demo
Basic Support Concepts
Basic Backup Concepts
Environmental & Safety Concepts
Security
Basic Security Threats
Security Best Practices
Web-Browsing Best Practices
Networking
Setup and Configure Basic SOHO Router
Wireless Router Demo
Compare & Contrast Cellular Wireless and Wire Data Connections
Compare and Contrast Different Methods of Sharing and Storage
ENTRANCE REQUIREMENTS
Minimum 18 years of age
Criminal Background Check
Drug Screen
High School Diploma or G.E.D.
Proof of 7th-grade reading level
ProveIt and Northstar Digital Literacy Assessments
COURSE LENGTH
Course length is 2 weeks.
Contact TulsaWORKS for more information