Menu
Get to steppin', boot lovers
11/15/2013
For those who might feel guilty buying boots year-round, let us officially declare it boot shopping season!
As you plan your late fall and winter wardrobes, don't forget the footwear. And of course,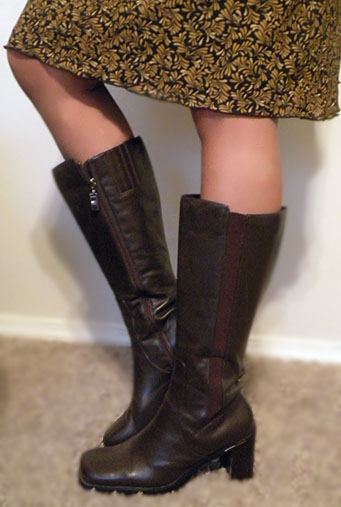 photo illustration

Tommy Hilfiger boots and Worthington skirt purchased at Goodwill Tulsa.
going the thrift store route can save you cash without sacrificing style. A post on the online fashion community Chictopia, noted the growing popularity of thrift store boots among fashion bloggers, many who have pictures posted on its "streetstyle gallery":
http://www.chictopia.com/Thrift-Store-Boots/info
Selection, as you might expect, varies. Keep an eye out for your favorite brands and/or style, and be ready to pounce when you find a good deal. The Tommy Hilfiger boots pictured at rightonly cost $24.99 at Goodwill.
Keep an open mind, however, especially if you wear a hard-to-find size. For instance, find a nice pair of leather knee-high or mid-calf boots for versatility.
It's understandable that even the most dedicated thrifter might give pause when it comes to buying used shoes and boots. Fashion blogger Patrice J. Williams — http://lookingflyonadime.com/, https://twitter.com/flyonadime — offers these few tips when shopping for boots:
Come Prepared:
Winter boots are usually worn with heavy socks or thick tights so I make sure I have a pair with me, so I can get an accurate fit when trying them on at the thrift store. And even if I don't have on a pair of thicker socks, I always make sure the boots have a little a wiggle room. If they're already too tight without thick socks, they'll be way too uncomfortable when worn with the appropriate socks. And for pointy toe boots, going up half a size always makes for a better fit so your toes aren't smooshed.
Carefully inspect heels, soles and zippers when buying used boots.
Inspect Closely:
Shoes can take a serious beating, but especially boots that are worn in rain, sleet and snow. In addition to the physical condition (any scuffs, stains, tears, etc.), pay close attention to the heel. Has it been worn down? Is it wobbly? This is something that can easily be fixed by a cobbler, but just factor in the cost of repair before buying.
What's Old is Always New:
Some styles of boots are always in style (flat, ankle, wedges, cowboy, etc.), so you'll always find something that's on trend and super affordable.
What boot shopping strategies do you use?
More tips
http://lookingflyonadime.com/how-to-buy-thrifted-shoes/