Menu
Look great and shop green at Goodwill Industries of Tulsa
1/9/2020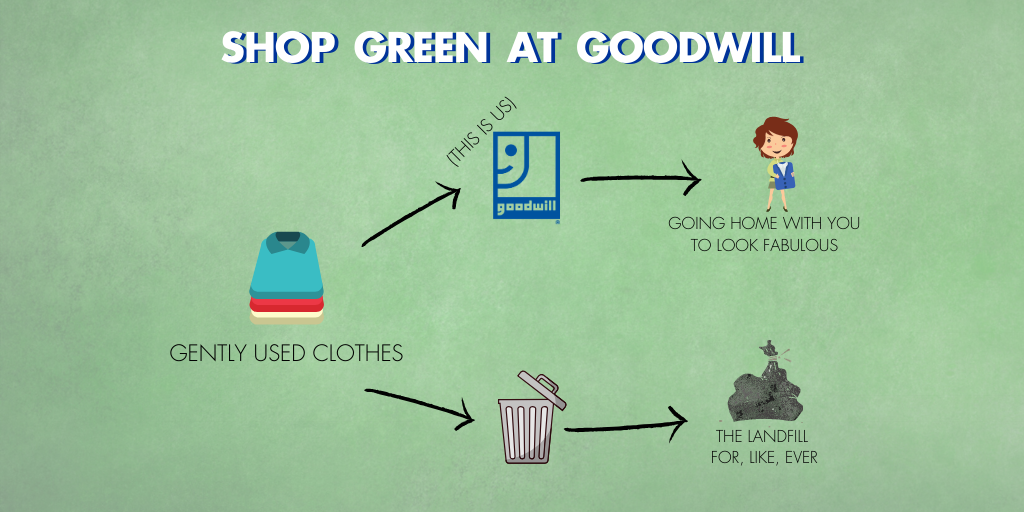 So, it's the start of the New Year and you want to live more sustainable. You are dead set on lowering your carbon footprint. That's super cool and super good for the Earth. The two big fears people have when trying to live a more sustainable lifestyle are that it will be difficult, and it will lower a person's quality of life.
Those fears don't always hold true. By simply shopping at the Goodwill Industries of Tulsa store in your area you are helping create a more sustainable world. It doesn't get much easier than that.
Raw materials, from wood to cotton to plastics to metals, are needed to create most of the things we use in our daily lives. That includes shirts, small kitchen appliances, books and more. When you buy something new, you are indirectly pulling from the limited resources on our planet.


You can look great and go green at Goodwill Industries of Tulsa.
But when you choose to buy something from Goodwill, it doesn't require dipping into the limited raw resources of Earth. That's because those items already exist. They were already created, bought once, gently used, and then donated to Goodwill. In fact, when you shop at Goodwill stores you are taking part in a process that diverts more than 16 million pounds of clothes and household items out of area landfills!
What makes is even better is that secondhand doesn't equal second-rate. Quite literary tons of brand-name, gently used products are placed on Goodwill Store floors each week. You can buy a nearly new pair of Prada shoes and know you also helped the environment.
Click
here to find the closest Goodwill store to your home.
To post comments, Click Here to Login