10 a.m to 2 p.m.
NEW LOCATION FOR 2017:
Edgar J. Helms Center,
2740 Southwest Boulevard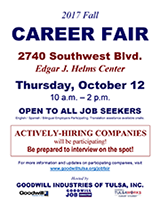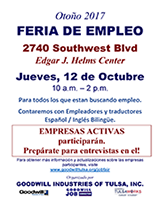 Be ready to interview on the spot!
PARTICIPATING EMPLOYERS
Goodwill Industries of Tulsa, Inc.
Macy's Logistics & Operations — Owasso
Cox Communications
Tulsa County
Hyatt Regency Hotel
Employee Solutions (Tulsa Bus Plant & more)
Securitas Security Services USA
City of Tulsa
Madison Strategies Group
Diamond Quality Care
Lowe's Home Center
ResourceMFG
American StaffCorp
St. Simeon's, Senior Living Community
APA Services
Airflo Cooling Technologies
Braum's Ice Cream & Dairy Store
Cherokee Nation Entertainment
Brighter Day Inc.
PeopleReady
365 Worx — The Staffing Company
Allied University Security
Tulsa Public Schools
Praetoria Security
Harmon Security
Tulsa Job Corps
Signal 88 Security
Encore Pro Staffing
DoubleTree Tulsa — Warren Place
Tulsa County Sheriff's Office
SJS Hospitality LLC
Servpro South Tulsa
Core Civic — Tulsa Transition Center
Renaissance-Hotel & Convention Center Tulsa

Check back often for updates.

CAREER ASSISTANCE & TRAINING
Goodwill Job Connection
Goodwill TulsaWORKS Career Academy
FREE GED Prep Classes

Career Readiness

Employment Essentials

Private Security - Unarmed & Continuing Ed.

Hospitality

Forklift Operation / Material Handling

Computer Support Tech/A+ Certification Prep

Workplace Computer Skills
Financial Coaching, free professional assistance
News You Can Use!
The Job Guide
Dress for Success
Oklahoma Employment Security Commission
Workforce Tulsa
Tulsa Vet Center
PREPARE WITH GOODPROSPECTS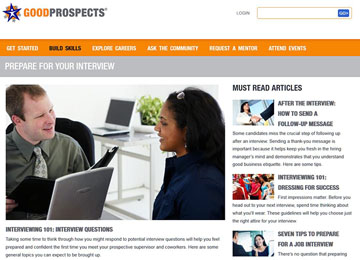 Check out the helpful articles on interviewing and other career development tools all one site.