Good Thinkin' Blog
Manage money better with written plan
Goodwill Industries of Tulsa
The path to household financial security involves many steps. Catherine Pate, AFC®, financial coach at Goodwill, recommends a crucial starting point: a written spending plan.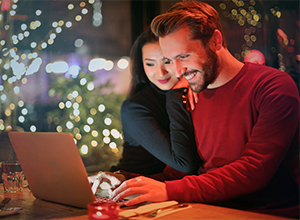 A written spending plan provides an overall financial picture that can make it easier to prepare for the holidays or other specific money goals.
Good money management starts with knowing what money you have coming in and going out towards bills (yes, bills). Then you can see whether you have extra cash (aka "discretionary income").
With automatic payments and direct debits, we might be tempted to simply monitor our bank accounts weekly or balance the checkbook at the end of the month. However, a written spending plan is a strong visual of your current financial picture. It is easier for you to control your money management with a laid out plan.
And while it might sound obvious, by knowing where you are financially, you can then see where you are going. You can use this information to work toward your overall future financial security and to create specific SMART goals: Specific, Measurable, Attainable, Realistic and Timely.
An example of an SMART goal for money management: "I will save $25 per paycheck every month for the next 12 months."
You can get help developing SMART goals or your basic money management skills by scheduling a free coaching session with Catherine. Call 918-581-1288.
Keep following our blog to read more tips from Catherine on money management, improving credit and paying down debt.
Goodwill has partnered with the Consumer Financial Protection Bureau (CFPB) to provide free financial coaching services to families in the Tulsa area. Catherine Pate, AFC®, FFC candidate, is headquartered at Goodwill until March 29, 2019.
---
---
Festive Designs for Your Independence Day Celebration
Goodwill Industries of Tulsa
By Julia Marchand
Courtesy of Goodwill Industries International
With Independence Day right around the corner, you may be looking for new and exciting ways to celebrate. Of course, a parade and fireworks are basically mandatory, but don't forget to dress up yourself and your home! These are two of my favorite ways to enjoy holidays since they really set the tone for whatever merriment is approaching.
The first thing I like to do to prepare for an upcoming event is to pull together at least one themed display at home. Just setting something up on a tabletop or bookshelf doesn't take long, but can make a great statement. You don't even need to have guests over to appreciate it! I find that changing up my surroundings even just a little at a time keeps my home feeling fresh and inspiring. This quick and patriotic display made by Sarah for Goodwill Easter Seals (Saint Paul) is exactly what I'm talking about. It's bright, bold, and brilliantly priced since she found everything at Goodwill!
Be a firework this fourth by decking yourself out head-to-toe in red, white, and blue like Molly and Penny, the sisters behind the blog Goodwill Fabulous. Can you believe that the dress Molly scored for $4.99 from her local Goodwill originally retailed for $138? That's about 96% off! I'd say the hunt is well worth it for a price like that. What do you think?
Another aspect of Independence Day that I truly adore is how social the holiday is. This is not one of those intimate family days like Easter nor is it a one-on-one type evening like Valentine's Day. It's an all-you-can-eat, everyone's invited, break out the sparklers kind of jubilation! As such, it might be a good idea for you to have some snacks and activities on hand. Here are some fantastic ideas for themed décor and pastimes from Marion Goodwill Industries (OH) including the super simple silverware stash above!
But perhaps the most patriotic thing about celebrating the Fourth of July by shopping at your Goodwill is that every dollar you spend is going back into your own community. Eighty-three percent of collective revenues raised through the sale of donated goods support and grow Goodwill's critical community-based programs and services. Thrifting at Goodwill is such an easy and effective way to help keep your unique community strong to ensure that we can continue to applaud it every July 4th for a very long time.
Julia Marchand is a home decor/DIY blogger at LITTLEroost. From her little roost in rural New England — fueled by coffee and fresh air — Julia blogs for Goodwill Industries International creating sustainable DIY, home decor, and fashion content from thrifted finds.
---
---
Goodwill named Veteran Employer Champion
Goodwill Industries of Tulsa
Goodwill has earned a new local distinction: Veteran Employer Champion.
At a ceremony Wednesday, Tulsa Mayor G.T. Bynum recognized the inaugural group of Veteran Employer Champions, a program that recognizes dedicated efforts in finding work for veterans in Oklahoma. The program is a partnership between the City of Tulsa, Community Service Council, Warrior Partnerships of Eastern Oklahoma, DR Consulting and the Oklahoma Department of Veteran Affairs.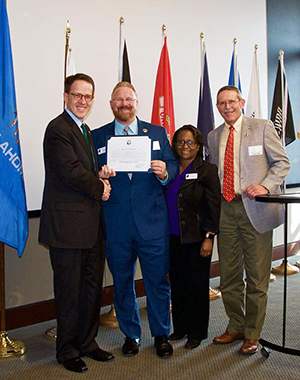 Courtesy photo
(From left) Tulsa Mayor G.T. Bynum; Goodwill TulsaWORKS Career Academy Coordinator Parrish McDaris; TulsaWORKS Director Sabrina Ware; and Goodwill Industries of Tulsa President David Oliver
Goodwill and the 12 other organizations had to meet a set of benchmarks to earn the Veteran Employer Champion recognition (see infographic below). The program's long-term vision is of a network that supports the recruiting, hiring and developing of veterans.
"We will continue to identify champions and grow this network, which will include peer learning opportunities for employers to best support the veterans in their workforce," said Pete Luitwieler, program manager for Community Service Council's Oklahoma Veteran Connections and Warrior Partnerships of Eastern Oklahoma programs.
Veterans and their families can learn more about Goodwill's job training programs by calling 918-581-1256 or visiting our website.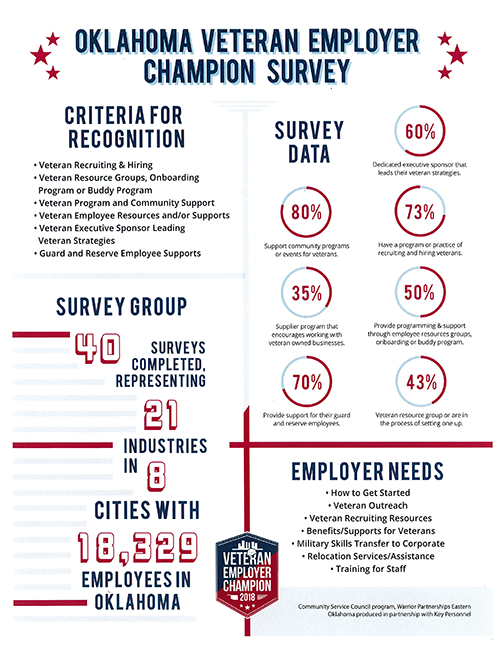 More
---
---
Goodwill Success Story: Meet Rachel
Goodwill Industries of Tulsa
Marie Rachel Louisjuste came to the conclusion that in order to excel in her college classes as she wanted she would have to master Microsoft Excel.
"I tell people, until recently, Excel used to kick my rear! It was like a bad dream. I used to be so stressed about it!" said Rachel, a recently naturalized U.S. citizen from Haiti.
Adding to her frustration, Rachel couldn't find anywhere to go for basic training in Excel. That's where Goodwill came in to help.
"Well, these classes aren't taught anywhere else. I have enrolled at TCC trying to take Excel, but it was too advanced," Rachel said. "So whatever I knew about Excel I taught myself. Of course, that's not good enough. There's always a shorter way, and a more professional approach to it. So, I know if I could find a class, more basic, where I can learn the language of Excel, then I can excel! So that's what I did!"
Rachel felt led to come to Goodwill, specifically to TulsaWORKS Career Academy, so she could give herself a better future, and so she could bless others. She was working 82 hours a week while taking classes. Rachel knew that improving her skills and gaining new ones would give her more opportunities for getting a better job and providing for herself. So when she came to enroll and learned that Workplace Computer Skills class was starting the following week, it was confirmation that she was on the right path.
Rachel completed her training at TulsaWORKS in February. "I learned Excel wasn't so bad after all!"
She firmly recommends the classes to "seasoned" students like herself or people who need to polish their computer skills.
"(T)here's a mission statement up front that says 'somebody feeds you, that's charity. But if somebody teaches you how to upgrade your skills to get a better job, that is a second chance.' I like that. Teaching you how to fish, not feeding you a fish. … I like that, I like catching my own fish! You decide what size of fish you want, you know! … If you want a 50 pound, go for it. If you want catfish, more power to you. If you want 7, go get it. The sky's your limit."
---