Good Thinkin' Blog
Financial Coaching Program fits Goodwill
Goodwill Industries of Tulsa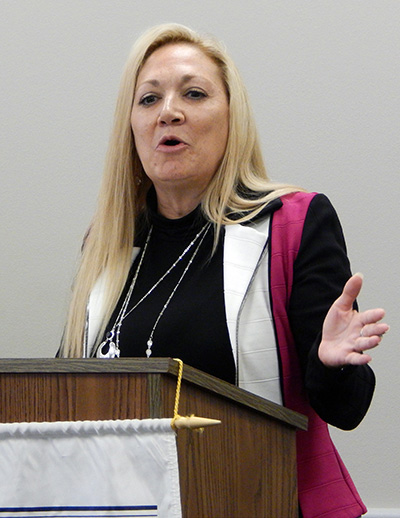 Catherine Pate, AFC, talks about her work as a financial coach at the program introduction at Goodwill Industries of Tulsa on Thursday.
Working partnerships and program integration were the key themes as Goodwill Industries of Tulsa introduced its Financial Coaching Program at an event Thursday, August 31.
Goodwill has partnered with the Consumer Financial Protection Bureau (CFPB) to provide free financial coaching services to families in the Tulsa area. Goodwill of Tulsa is one of 60 organizations chosen to host a professional financial coach. Catherine Pate, AFC®, FFC candidate, has been headquartered at Goodwill since mid-June.
"It's a perfect fit," Pate said. She also appreciates the collaboration with the Tulsa Area United Way, which initiated the application to be a host site.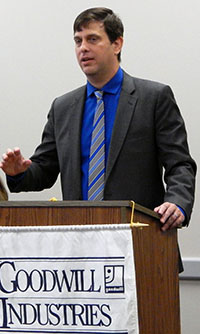 Neil Sunley explains the benefit
to individuals of integrating services
at the Financial Coaching Program Introduction on Thursday. Sunley is
deputy program manager at Armed
Forces Services Corporation.
People having access to multiple services in the same place was a plus in the Tulsa application, said Neil Sunley, Deputy Project Manager of Armed Forces Service Corp. The company oversees the CFPB program, including selecting sites. At Goodwill, people coming in for financial coaching can easily connect with Goodwill's career training programs as well as resources through United Way partner agencies.
"Integrating is the key part," Sunley said. "That is where the magic happens."
Goodwill Industries of Tulsa and Goodwill Industries of Arkansas are believed to be the only two Goodwills selected for the program. Cindy Longacre, director of Community Initiatives at Tulsa Area United Way, saw the opportunity to apply in April. She strongly believed Tulsa would be a great candidate.
On Thursday, Longacre shared findings from a recent financial coaching study: Financial counseling services even helped people with low incomes and disproportionately high housing costs to reduce debt, increase savings, obtain credit and improve credit scores.
"Now, who doesn't want to be a part of that?" she said.
Pate described herself as the navigator for individuals as they follow their road map to their financial goals, values and dreams.
"I'm the voice that keeps people on track," she said.
Sabrina Ware, director of Goodwill TulsaWORKS Career Academy and Goodwill Job Connection, believed the CFPB program fits naturally into Goodwill's mission to help people overcome barriers.
"And not being able to take charge of your finances can be a barrier," Ware said.
Ware reiterated the financial coaching with Pate was free of charge and available to anyone.
"Refer, refer, refer," Longacre told the audience. "We want to keep her busy."
---
---
Goodwill Industries of Tulsa Selected to Host Financial Coach
Goodwill Industries of Tulsa
For Immediate Release
June 27, 2017
Update: 8/1/17
Goodwill will introduce this financial coaching service to the community on August 31, 2017 from 9 to 10 a.m. at their Training Center at 2800 Southwest Boulevard, Tulsa, OK.
Goodwill Industries of Tulsa Selected to Host Financial Coach
Tulsa, Oklahoma – Goodwill Industries of Tulsa announced today that it has been selected by the Consumer Financial Protection Bureau (CFPB) to participate in the federal agency's Financial Coaching Initiative. As part of this initiative, Goodwill Industries of Tulsa will host a full-time financial coach at its Training Center on Southwest Boulevard in Tulsa to work with its employees, program participants, and others to help them with their financial goals.
"We are very excited to have been selected to host a Financial Coach," said David Oliver, President of Goodwill Industries of Tulsa. "We look forward to helping many people reach their goals."
Millions of consumers are economically vulnerable, including the 48.7 million people living below the poverty line, and the more than 67.5 million who are financially underserved. These consumers are the most likely to lack access to traditional financial services, which may include products that are more appropriate to their needs and less costly. In-person, individualized and trustworthy guidance can help these consumers make good financial decisions and reach their financial goals.
The CFPB Financial Coaching Initiative provides financial coaching services at critical points in consumers' lives as they move along the path to financial stability. The program helps both veterans as they transition from active duty status, as well as, economically vulnerable consumers seeking other services from social services and other providers.
Goodwill Industries of Tulsa, a Tulsa Area United Way Partner Agency, is one of sixty diverse partner organizations from around the country that have been selected to host professional financial coaches. The sites include 20 nonprofits. All of the nonprofit organizations selected to host financial coaches for economically vulnerable consumers also provide services that complement financial coaching such as job training and education, social and housing services.
Financial Coaching at Goodwill will extend services offered to the public, including free income tax preparation in partnership with Tulsa Area United Way, free job search assistance at Goodwill's Job Connection locations, and Goodwill's extensive employment and training programs.
The financial coaches hired for the program have experience working with the populations they will service, are accredited by the Association for Financial Counseling and Planning Education and are trained in financial coaching techniques.
More information on the CFPB's Financial Coaching Initiative is available here: www.consumerfinance.gov
The Consumer Financial Protection Bureau is the nation's first federal agency whose sole focus is protecting consumers in the financial marketplace. Using its multiple authorities, including regulation, supervision, enforcement, market research, financial education, and the authority to deal directly with consumer complaints, the CFPB is working to restore trust in consumer financial products and services.
For more information on the CFPB visit: www.consumerfinance.gov.
MORE
---
---
FYI: Veterans invited to mentor picnic
Goodwill Industries of Tulsa; Veterans Treatment Court
The Veterans Treatment Court Mentor Corps is inviting veterans and their families to a picnic Saturday at the Partners for Heroes Overlook on Lake Skiatook. The purpose is to celebrate the mentor-mentee relationship and to encourage all veterans to engage in mentor and peer support programs.
The event is 11 a.m. to 3 p.m. Transportation is available if needed. Shuttles will leave the Coffee Bunker at 10 a.m. and return at approximately 3:45 p.m.
If interested, call (918) 588-8409 to register. You can click on the flier below to download a full size version.
---
---
FYI: Tulsans can properly dispose of medications April 29
Via the City of Tulsa
Updated 4/28/17:
The event has been cancelled due to inclement weather. A new date has yet to be finalized.
A prescription drug take-back event is scheduled for citizens to properly dispose of unwanted medications and prescription drugs on Sat., April 29 from 10 a.m. to 2 p.m. at three locations in Tulsa:
71st and Sheridan — Reasor's parking lot, 7114 S. Sheridan Rd
41st and Yale

—

Reasor's parking lot, 4909 E. 41st
21st and 129

—

M.e.t. Recycling Center parking lot, 12466 E. 21st
Prescription drug overdoses kill more Tulsans, ages 25 to 64, than cars. The largest groups of users are 18-to-25 year-olds. A recent Oklahoma Prevention Needs Assessment study shows that 16.45 percent of Tulsa County youth are obtaining prescription drugs from home.
Citizens are urged to properly dispose of medications and not flush medications down toilets. Wastewater treatment plants are not designed to remove chemicals found in many medications and these chemicals could discharge into streams if medications aren't disposed of properly.
The prescription drug take-back event is being conducted by the City of Tulsa Water & Sewer Department, Tulsa Police Department, the Coalition Against Prescription and Substance Abuse of Tulsa (CAPSAT), Tulsa County Medical Society, the Oklahoma Bureau of Narcotics and Dangerous Drugs, and the DEA.
Citizens can also take unwanted prescription drugs to one of the three Tulsa Police Division headquarters and to the Tulsa County Sheriff's office any time of the year. Locations and hours include:
Tulsa Police Gilcrease Division, 3436 N. Delaware Ave., 8 a.m. – 6 p.m. Monday through Friday.
Tulsa Police Mingo Valley Division, 10122 E. 11th St., 8 a.m. – 4 p.m. Monday through Friday.
Tulsa Police Riverside Division, 7515 S. Riverside Drive, 8 a.m. – 4 p.m. Monday through Friday.
Tulsa County Sheriff, 303 W. 1st St., 8 a.m. – 4:15 p.m. Monday through Friday.
More
---
---
Goodwill good for the environment and good for people
Goodwill Industries of Tulsa
By Nancy Webster
Director of Community Relations, Goodwill Industries of Tulsa
Every year, people clean out their closets and homes to start fresh for the spring season. This Earth Day, Goodwill Industries of Tulsa is encouraging people to live more sustainable lifestyles and help people in their local communities find jobs. In addition, people can shop Goodwill stores and save while collectively diverting thousands of pounds of items from landfills impacting environmental sustainability. By shopping at and donating to Goodwill, you can help people find employment, and build their work skills.
Goodwill's donation-resale model extends the life of clothing and other goods, and earns revenue for Goodwill job training programs, employment placement services and other important social services, such as GED classes, financial education, support services and more. Donating to Goodwill is a simple way to begin living more sustainably.
"Revenue raised through the sale of donated goods creates employment opportunities and important social services to help transform someone's life. This is all done through the simple act of cleaning out a closet," said Nancy Webster, Director of Community Relations at Goodwill Industries of Tulsa. "Making a commitment to reduce, reuse and repurpose this Earth Day is as simple as heading to the nearest Goodwill store or donation center."
Every donation to your local Goodwill provides on-site classroom training, access to computers for job search assistance, employment placement job training and other community-based services such as career counseling, and résumé preparation for anyone facing challenges to finding employment. Last year, more than 1,200 people connected with jobs or earned employment using Goodwill Industries of Tulsa's career services programs.
Goodwill Industries of Tulsa provides work opportunities, job training and support training for people with disabilities and other employment barriers.
This article first ran in the Tulsa World as a Letter to the Editor on Sunday, April 16, 2017.
---
---
Free Income tax services through Goodwill, partners
Goodwill Industries of Tulsa
Tax time is here. And many taxpayers can have their returns prepared free of charge!
VITA Program
Volunteers with the IRS Volunteer Income Tax Assistance (VITA) program will be at 2800 Southwest Boulevard to prepare income tax returns Saturdays, 9 a.m.-3 p.m. from February 4 to April 15. Prior year returns and amended returns can also be prepared beginning March 18.
Tulsa Area United Way facilitates the VITA program locally. Individuals and families with household
income up to $54,000 are eligible. The other VITA site locations, scheduled to open in February, are:
East Side Christian Church
1438 S. Indianapolis Avenue
Monday-Friday, 9 a.m.-3 p.m.
Tulsa Dream Center
200 W. 46th St. North
Mondays and Thursdays, 9 a.m.-3 p.m.
The Center for Individuals with Physical Challenges
815 S. Utica
Thursdays, 5-8 p.m.
YWCA
8145 E. 17th Street
Tuesdays, 9 a.m-3 p.m. Spanish is spoken here.
You can call 2-1-1 Helpline for other sites and hours in Tulsa. If you are outside Tulsa,
visit http://irs.treasury.gov/freetaxprep/.
Online with MyFreeTaxes
If you are comfortable working on computers and earn up to $64,000, you can prepare your own taxes online at no cost at MyFreeTaxes.com.
Sponsored by United Way, with support from H&R Block®, MyFreeTaxes is a free, safe and easy way for anyone with household income up to $64,000 to file state and federal taxes. And it's optimized for mobile devices so filers can enter data into their secure account anytime and anywhere.
Assistance is available through online chat or the helpline, 1-855-My-Tx-Help
(1-855-698-9435). Save the money that you'd spend on tax software or going to a paid preparer. Check it out here.
Important note on EITC, ACT credits
Beginning this year, a new law requires the IRS to hold your Earned Income Tax Credit or Additional Child
Tax Credit refund until February 15. The IRS must hold the entire refund not just the credit portion.
You don't need to wait, however, to file your tax return. AND going to a paid preparer will NOT make
your refund come faster. VITA volunteers and MyFreeTaxes can check if you are eligible to claim
these valuable credits. For instance, the EITC helps workers keep more of what they earn to pay for things
such as childcare, groceries, and car repairs to get to work. Learn more here.
Happy tax season!
---