Good Thinkin' Blog
Goodwill Success Story: Meet Rachel
Goodwill Industries of Tulsa
Marie Rachel Louisjuste came to the conclusion that in order to excel in her college classes as she wanted she would have to master Microsoft Excel.
"I tell people, until recently, Excel used to kick my rear! It was like a bad dream. I used to be so stressed about it!" said Rachel, a recently naturalized U.S. citizen from Haiti.
Adding to her frustration, Rachel couldn't find anywhere to go for basic training in Excel. That's where Goodwill came in to help.
"Well, these classes aren't taught anywhere else. I have enrolled at TCC trying to take Excel, but it was too advanced," Rachel said. "So whatever I knew about Excel I taught myself. Of course, that's not good enough. There's always a shorter way, and a more professional approach to it. So, I know if I could find a class, more basic, where I can learn the language of Excel, then I can excel! So that's what I did!"
Rachel felt led to come to Goodwill, specifically to TulsaWORKS Career Academy, so she could give herself a better future, and so she could bless others. She was working 82 hours a week while taking classes. Rachel knew that improving her skills and gaining new ones would give her more opportunities for getting a better job and providing for herself. So when she came to enroll and learned that Workplace Computer Skills class was starting the following week, it was confirmation that she was on the right path.
Rachel completed her training at TulsaWORKS in February. "I learned Excel wasn't so bad after all!"
She firmly recommends the classes to "seasoned" students like herself or people who need to polish their computer skills.
"(T)here's a mission statement up front that says 'somebody feeds you, that's charity. But if somebody teaches you how to upgrade your skills to get a better job, that is a second chance.' I like that. Teaching you how to fish, not feeding you a fish. … I like that, I like catching my own fish! You decide what size of fish you want, you know! … If you want a 50 pound, go for it. If you want catfish, more power to you. If you want 7, go get it. The sky's your limit."
---
---
Goodwill Award Winners Show Perserverance
Goodwill Industries of Tulsa
Goodwill Tulsa held its Annual Awards Luncheon on May 9, 2018. A highlight of the annual event is announcing our Achiever, Employee, and Graduate of the Year, and our Community Partner. We get the chance to share how each winner succeeded in our programs due to their determination and positive spirit, and with key support from others.
2017 Achiever of the Year: Kevin Jefferson
Kevin had a longtime goal to be a computer engineer. His dream seemed to be derailed after a life-threatening car accident. He was forced to drop out of college and he had to make ends meet by bartending and serving at a local country club. Wanting more, Kevin enrolled at Goodwill TulsaWORKS Career Academy. Kevin completed the Computer Support Tech class and turned an internship into a full-time IT job with 501tech. He feels like his dream is back on track.
2017 Employee of the Year: Traci Daubert
Traci has been a beloved employee at Goodwill for almost 18 years. Before that she was a successful participant in Goodwill's Transition Work Adjustment program. Neither Traci, nor her family, have allowed her developmental disability to keep her from thriving at work and in life. As a member of Goodwill's hospital enclaves, Traci has worked hard to develop job skills and social skills, and learn how to work on a team. She has faced challenges that come with new job positions. Through it all, Traci is known for her smile and congenial attitude.
Graduate of the Year: Alex Morris
Alex once struggled with social interaction. The Oklahoma Department of Rehabilitation Services referred him to Goodwill's specialized training program for high school students on the Autism Spectrum (ASD). Now, the once quiet and reserved Alex is a courtesy clerk at Reasor's. In the ASD program, Alex learned how to meet expectations in the workplace through a variety of teaching techniques such as role-playing and mobile apps. He successfully transitioned in to Goodwill's Supported Employment Program, where his employment consultant helped him land the Reasor's job. Alex's workplace success earned him the Governor's Disability Award of Excellence in 2017.
2017 Community Partner of the Year: SJS Hospitality
Goodwill recognized SJS Hospitality as the Community Partner of the Year at the annual Awards Luncheon. SJS brings a hands-on approach that enhances the learning experience for students in Goodwill TulsaWORKS' Hospitality Training and Certification Program. At the luncheon, SJS Hospitality Human Resources Director Michelle Hartman said that the people at Goodwill are great to work with "and they've made us excited about being community partners."
---
---
Zero-waste kit tips from Goodwill
Goodwill Industries of Tulsa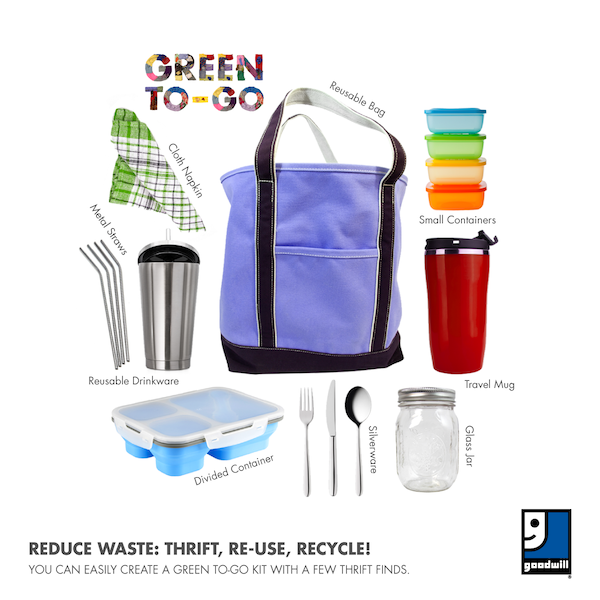 Today is Earth Day – but you can celebrate every day!

One way that you can do your part to reduce waste is by embracing reusable alternatives when you're eating at a restaurant or anywhere on the go. Here are a few simple items – some you can thrift at your favorite Goodwill – to help you be prepared!
Reusable Bag
The perfect way to keep your kit together, great for runs to the store, useful for transporting food – skip the flimsy plastic!
Cloth Napkin
Pass on the paper and go for a cloth option. Practical, washable, durable – just throw a few in your kit!


Metal Straws
Make plastic straws a thing of the past by keeping a few of these on hand, plus you'll never have to contend with the occasional dreaded punctured straw…


Reusable Drinkware/Travel Mug
Keep your drinks warmer/colder longer and avoid disposable drinkware.


Divided Container
Great for bringing lunches or taking leftovers home. Skip the Styrofoam and plastic to-go boxes!


Silverware
Handy for avoiding disposable plastic alternatives, easy to clean – keep a few sets on hand so you can wash and rotate.


Glass Jar
A great small container option for snacks or drinks.
Small Containers
Have a few for dry snacks or smaller to-go items – flexible, convenient, a must in any kit.


Preparing your own zero waste kit is a fun challenge that will help you avoid unnecessary trash and single use items in your daily routine. Create your own, and share any new ideas you discover by tagging us on social media, @goodwilltulsa.
---
---
Back to the '40s: Jenks teen creates a vintage look on a budget
Goodwill Industries of Tulsa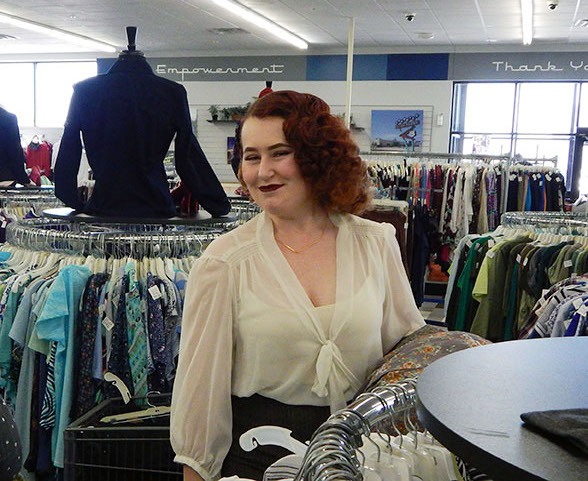 By Lindsey Meeker
Gooodwill Industries of Tulsa
Barely 10 minutes into her trip at the Goodwill® Store on Southwest Boulevard, Hannah Jackson already had her arms filled with possibilities.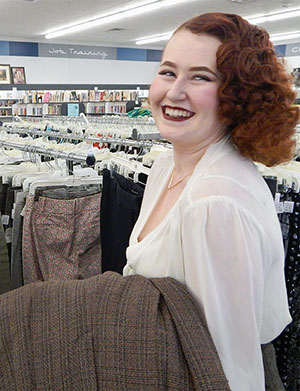 Hannah Jackson shops for vintage styles at the Southwest Boulevard Goodwill Store.

She quickly had to find a cart for all of her treasures — several blouses with floral patterns and pinstripes, and a charcoal-grey plaid wool skirt. Not exactly the kind of things you'd expect to see in an 18-year-old's cart. Hannah was thinking they were just her style.
Looking the part of a 1940s movie starlet, this high school senior from Jenks wore a flowy sheer cream blouse, a curve-hugging grey pencil skirt with ruffled fringe, and a pair of vintage tied burnt-yellow heels. Her auburn hair was perfectly curled, brushed, and set into old Hollywood waves.
Hannah is a 1940s enthusiast who loves the vintage style culture. A couple years ago, Hannah bet herself to see how long she could dress vintage Forties without repeating an outfit. She hasn't stopped since.
To school, to shop, to band practice, wherever, it's her daily style. Her Instagram feed, @nooneknows_itsyou-missjackson, is part style gallery, part how-to, and part daily journal. Hannah spends many of her weekends picking out vintage clothing at Goodwill, other thrift shops and flea markets. She also seeks out modern pieces that she can style into a 1940s era outfit.
"When I was in elementary school, I sewed Barbie clothes and stockings. In 5th or 6th grade, I learned how to sew my own clothes," said Hannah, adding that her mom taught her how to use the sewing machine. Now one of her favorite things to do, it also came in handy when she started dressing in vintage Forties style as she could alter her finds by herself.
"I love terrible patterns," she said as her fingers flicked through a rack of women's blouses, carefully checking for options. When Hannah shops, she focuses on men's slacks, women's button-up tops, pencil skirts, mid-calf/knee-length dresses, full skirts, and A-line dresses with the right fabrics and fits. Her main style is a Forties look, but she dabbles in other eras. For instance, she pulled out a beautiful blue dress with attached red polka dot collar that would make all "Mad Men" viewers swoon. Hannah later discovered an ILGWU (International Ladies Garment Worker Union) label inside, which dates the dress between 1964 and 1974.
Hannah loves being a part of the global vintage community. Her favorite Instagram follows — Rachel Maksy (@rachel_maksy), Jessica (@the.elegant.giraffe), and Ida Catherine (@idacath) — inspire her daily to try new things.
Thrift shops are prime hunting ground for Hannah and other vintage enthusiasts. Shopping Goodwill brings the added bonus of helping people find work. Shopper's purchases allow us to offer job training and employment opportunities to people in our community.
Hannah was scanning the shoe racks when another Goodwill shopper came up to her. "You look beautiful," she said. "Thank you," Hannah said graciously and laughed. She is no stranger to the looks, stares or comments. On Instagram, you can read some of the funny comments that she hears in the school hallways like, "You look like a doll from pioneer days that a small child would really like to play with."
Hannah had this to say for others who want to change up their look: "Live your life. Don't let others discourage you.
---