Round-Up = Jobs
We launched our new fundraising program at two stores, Owasso and Southwest Boulevard, during Goodwill Industries® Week. Your purchase helps pay for our employment programs. And rounding up to the nearest dollar expands the impact of that sale by letting Goodwill reach even more people. It's a small way to make a big difference.
---
Free tax assistance extended to October
To meet the community's demand for help outside of the traditional tax season, the local coalition led by the Tulsa Area United Way we will reopen the Volunteer Income Tax Assistance site at East Side Christian Church, 1438 S. Indianapolis, on Tuesday, June 2. Volunteers will be available Tuesdays from 9 a.m. to 1 p.m. through October 15. More information, visit www.tauw.org.
---
Good Deals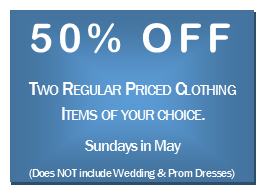 See Store Specials or the Value Planner for full details.