Our Vision: With your help, we can create
a community where all people have the training and opportunities they need to be successful in the workplace, regardless of the barriers to employment they must overcome.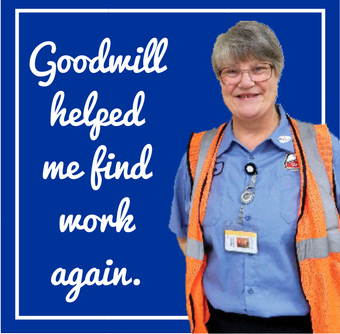 Connie, a senior worker, became suddenly unemployed. She wanted a job but couldn't find work.
Older adults receive fewer job offers, search longer and are ultimately less likely to find re-employment after losing a job when compared to younger job seekers.
Connie, however, came to Goodwill. She took classes at Goodwill TulsaWORKS Career Academy, expanded her skill sets, received industry-recognized training and earned the credentials which got her back to work.
Your tax-deductible donation will allow Goodwill to continue to provide these essential services to people like Connie, who otherwise may not have the opportunity to become re-employed. Thank you for your support!

---

Click banner to see opportunities to interview with
local employers at Goodwill Job Connection.
Good Deals
See Store Specials or the Value Planner for full details.