Our Vision: With your help, we can create
a community where all people have the training and opportunities they need to be successful in the workplace, regardless of the barriers to employment they must overcome.
Free Tax Prep
Goodwill's VITA site will be open Saturdays from 9:00 a.m. to 3:00 p.m. (or until we reach capacity) February 3 through April 14. Taxpayers with household income of $54,000 or less can have their federal and state income taxes prepared and electronically filed for no cost. Certain tax situations or more complicated returns may not be eligible.

Click to see What to Bring to VITA Site / En Espanol
For more valuable tax information, click
here
.

---

Click banner to see opportunities to interview
with local employers at Goodwill Job Connection.
Good Deals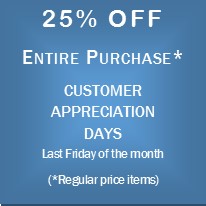 See Store Specials or the Value Planner for full details.