Menu
Third Thursday vibes at TulsaWORKS
6/27/2013
Educational environments are energetic.

Photos by Modisane Kwanza
Dean Vance speaks during a Third Thursday Connection about his good experience in Goodwill Tulsa's job training classes June 20. Third Thursdays are a chance for former and current students to connect and share their job hunting experiences.
So says Shawn Thomas, teacher of the corporate customer service class at TulsaWORKS. Okay, except maybe any 8 a.m. freshman seminar in college, he has a point.
Making sure current and former TulsaWORKS clients can tap into that energy is the driving force behind Third Thursday Connections. Each month, TulsaWORKS brings together students and alums at the Goodwill Tulsa campus. Around noon, they share stories, swap job hunting strategies, and give and receive encouragement over snacks and finger food. The clients can bring a friend who is interested in the TulsaWORKS program.
In that sense, Third Thursday meetings are a great opportunity for networking. Coming back to the learning environment is re-energizing for the graduates and gets the current students' juices flowing, Thomas notes.
Third Thursdays Connections started this year to supplement the twice-a-year alumni gatherings. Attendance varies from as few as 3 to the 23 who attended this month. The setting encouraged open exchange. Thomas showed inspiring quotes on a screen and clients explained how they applied to them personally. They came up with solutions to challenges some faced in finding jobs. They took a shot at answering tough, but common, interview questions such as "why should I hire you;" "aren't you overqualified for this job;" and "where do you see yourself in five years?"
TulsaWORKS graduate Dean Vance praised the training programs and the help he received, crediting it for his finding his current job. Vance, 61, works with people with disabilities and seniors in finding housing, health care and other needs.
"Each class is good. Good in different ways," Vance said. During his short talk, Vance admitted having doubts when he started the training. The others could relate: One student raised her hand to show she had talked herself out of quitting. Vance encouraged them, saying that he put in 32 applications before he "got a bite."
"There are jobs out there for every one of us," Vance assured the others.
He added: "Don't be afraid of the computer. It won't bite you."
Goodwill employment consultant Scott Rollins started as a TulsaWORKS student.
With a motivational speaker's zeal, Rollins told the group "Nothing takes the place of hard work, a good attitude, and support," adding "You have to believe in what you're doing."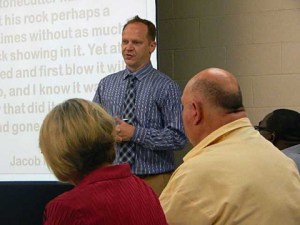 Scott Rollins was a TulsaWORKS student and now he works for Goodwill Tulsa as an employment consultant in Transitional Services. Rollins shared advice during a Third Thursday Connection session June 20.
Daniel Hart has taken two classes – workplace computer skills and corporate customer service — and he plans to attend Employment Essentials in July. Hart succeeded in a getting a company to review his resume and consider him for its training program. Being able to interact with the company reps by phone in a class setting was extremely beneficial, Hart explained. It was reassuring, he said, to hear the company favored accuracy over just speed. "I don't have to be the fastest," Hart said.
Another student learned of the TulsaWORKS programs at Goodwill Tulsa's job fair in May. Ms. Allen is taking Thomas' class and is conquering Windows 7. She's very happy she enrolled.
"I love it," she said.
To learn more