Menu
Fore Fatherís Day
6/15/2013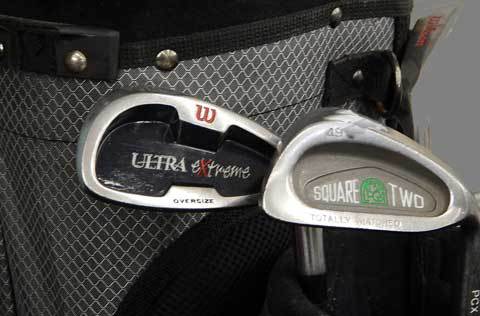 Dad's been hinting he's ready to take a swing at golf. Maybe you've caught the bug as well. Giving in to the temptation to buy the latest and greatest equipment, jump in a cart and race off to the first hole could prove costly and frustrating.
Local golf clubs and our in-house golf enthusiasts shared this advice on getting started in the sport and how to save money in the short- and long-run.
Take Lessons
Before you worry about buying clubs, learn to play the game. More important, how YOU play. Classes help new golfers start right — and avoid the misery and frustration that can come with learning a difficult game simply by beating balls all over the course.
"But wait, wouldn't that cost a lot," you might ask. Not necessarily.
Look for deals on golf lessons at GroupOn.
Consider taking a group class to save a few bucks and have fun learning with others.
The Get Golf Ready initiative offers special lesson packages for beginners at participating local courses. Through the program, sessions cost around $100 at LaFortune Park Golf Club and South Lakes in Jenks, which has sessions coming up in August. LaFortune also offers follow up play days so newbies can enjoy their first round in a fun atmosphere.
Buy Right
Simply buying new — or used — clubs off the rack is not the best way to go. That top of the line club the pros use could be just that, top of the line for a PRO. Ability and, of course, budget should be factors in choosing clubs.
"Beginning golfers don't know how committed they are going to be," says Joe Galloway, golf shop manager at LaFortune. For that reason, he recommends buying less expensive beginner packages, $199-$399; or looking at technology that's a couple years old, but still good. This way, if you decide the game is not for you, you're not stuck with thousands of dollars in equipment.
If you do decide you're all in, pay for a club fitting. Even for a beginner, it's worth the cost to get a detailed analysis of a brand or type of club that suits you. Ken MacLeod, publisher of Golf Oklahoma magazine, says it's like buying clothes: "You wouldn't buy a thousand dollar suit that's the wrong size."
At LaFortune, fittings are included in the purchase of clubs. If you don't buy, you get a gift certificate, so it's still money well spent.
Seek Out Discounts
There are ways to save, whether on clubs or greens fees.
Check what your local golf course offers for used equipment or rentals.
Stores such as Golf Galaxy and Dicks have deals on trade-ins.
Look for bargains online. Some say it's OK. Others say, never! Either way, Globalgolf offers new and used equipment in great condition at inexpensive prices.
See whether courses charge less to playing fewer holes, at certain times or give discounts for booking online. For instance, LaFortune's lighted Par 3 course is about $15 less to play than its Championship Course.
Ask about discounts for seniors or kids. Juniors programs and kids camps are inexpensive ways for them to get started in the sport.
"People have the perception that it's expensive to get into golf," Galloway says, "but you don't have to make it so."
The sport is working to make golfing easier and faster. The PGA of America and USGA are supporting the "Tee it Forward" initiative that encourages golfers to play with tees that match their abilities, leading to faster and more enjoyable rounds.
So Dad has the right idea. It is a good time to get in the game.
Have more ideas? Share your tips below.
Helpful golfing links
www.okgolf.org
www.playgolfamerica.com/GGR/
www.lafortunegolfclub.com/
www.southlakesgolf.com/
www.usga.org/default.aspx
http://www.golfgalaxy.com/trade-in-center.aspx?ab=TopNav_Equip_TradeIn
http://www.dickssportinggoods.com/shop/index.jsp?ab=TopNav_Golf_TradeIn&categoryId=13342544&cp=4413989