Menu
Books in style at Tulsa stores
5/31/2013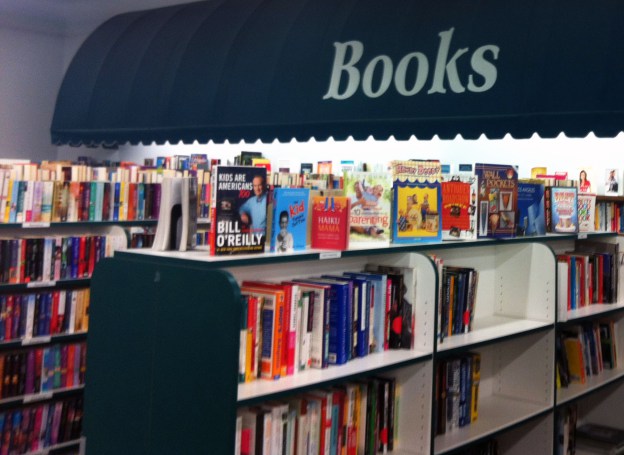 The book nook in the Southwest Boulevard Goodwill store feels like a store within a store.
It's a cozy area, covered by a green awning and with comfortable chairs for trying out a new author or subject. Fiction is alphabetized; non-fiction is categorized for easy browsing. You'll find the expected: used children books, cookbooks, encyclopedias, paperbacks and reprints of classics. But how about sections on the metaphysical and alternative medicine? A shelf each for gift books, travel, parenting, fitness and true crime? Fifty sections, in all, of used books in great condition – many nearly new – at discount seller prices.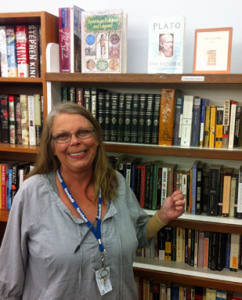 Above: Sales associate Cyndi Alexander points out one of her favorite sections (she really loves them all) in the book nook at the 2800 Southwest Boulevard store. TOP: The Goodwill store has a classy layout and its books section follows suit.
"I like for everybody to be able to find something," said Cyndi Alexander, who has lovingly managed the section for eight years.
Goodwill Industries of Tulsa resells donated items, including books, to fund training and other career services for people with disabilities or barriers to employment. Keeping old books out of landfills and fostering literacy are fringe benefits.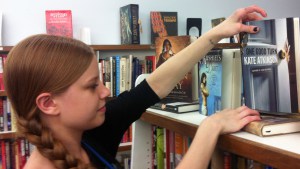 Photos by: Modisane Kwanza
Goodwill Tulsa sales associate Kristen Payne spruces up a display at the Southwest Boulevard store. More photos at our Pinterest page: http://pinterest.com/goodwilltulsa/
Religion and Christian fiction occupy four shelves. There are three for romance and a table of Harlequin series: special edition, historical, Silhouette and NASCAR. Debbie Macomber, Danielle Steele, Nora Roberts and other popular authors are well represented. (The prolific James Patterson practically has his own section.) Missing a book in a popular children's chapter series? Well, there's a wall of them, 50 cents a book. The young adult section is crazy popular, Cyndi said, especially at the height of the "Twilight" phenomenon.
Visitors will find an eclectic mix of titles for all tastes including Black history, homeschooling and local lore. Cyndi's plan is to offer as much as possible to a wide range of readers.
"I manage this like a store," she said while leaning against a cart of new arrivals. She doesn't like sections to be sparse or – even worse – empty, so Cyndi puts books out strategically. She rotates her stock as needed. She adjusts with the seasons, for example, putting out plenty of paperbacks and gardening books when the weather warms.
If a customer can't find a title or subject, Cyndi will keep an eye out for it. She willingly sorts through the book donations, trying to spot what her customers want.
She makes awesome finds: a recent Bethany Frankel, in prime condition; a beautiful Anne Geddes hardcover; oversized bios on Madonna and ACDC.
Always wanted to learn to play piano or harmonica? There are lesson books in the music section. Restoring a classic car? Check out the shelf of Chilton manuals ($3 each). Not into hardcovers? There's a table of trade paperbacks, many of them only $1.50.
Collectors might want to periodically peruse the two glass display cases set aside for special items. The Walt Disney Minnie Mouse and Donald Duck board books are still there, but a Maurice Sendak pop-up book is already gone.
Goodwill provides a comparable amount of space and expanded selection of books in the Goodwill store at 102 South Garnett Road. Many fans shop both locations on a weekly basis. Wander over on your next shopping trip and join them.