Menu
Fashionable fall ahead for juniors
9/12/2013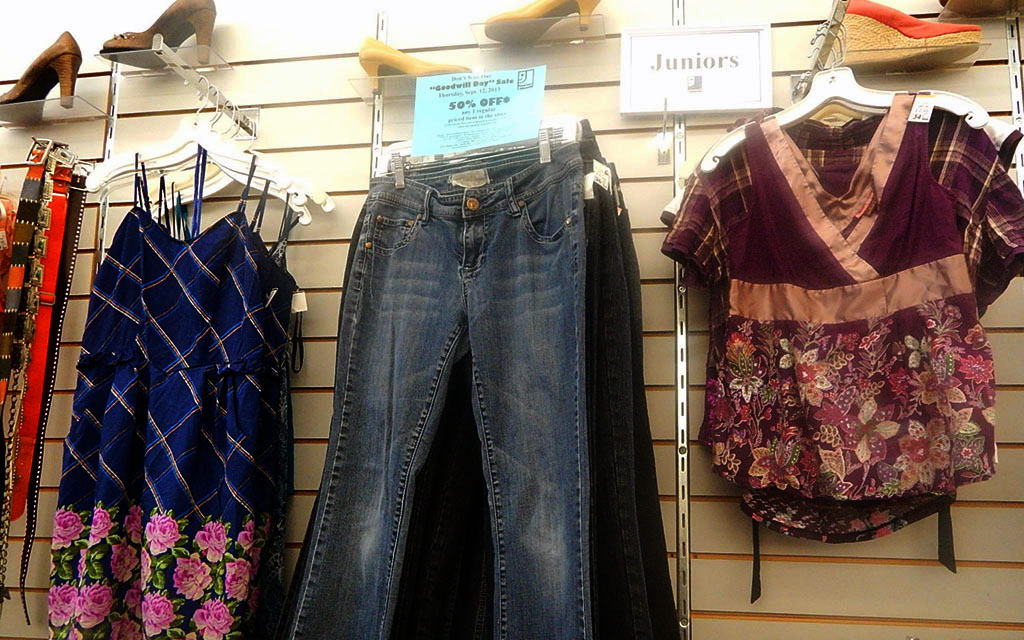 Photos by Modisane Kwanza
A display of warm weather fall clothing for juniors at the Broken Arrow Goodwill® store. Bright and bold colors add pop to fall fashions.
Whether for school or play, Goodwill® has the popular brands and the latest trends that juniors are searching for this fall. Here are recommendations for putting together a high-fashion look without the high ticket price.
Eye for color
Think beyond muted pastels. Instead, try bold and bright colors. They work as primary themes, but can really shine as accents. The Broken Arrow Goodwill® store is highlighting cobalt blue as an accent color for black-and-white ensembles. Light blue and purple, lavender and pink, also dot the displays. Color goes for shoes as well. Check out the stores' displays for ideas.
| | |
| --- | --- |
| | |
| A display at the 2800 SW Blvd. Goodwill® store shows how Juniors can mix in bright colors. | Cobalt blue is an eye-catching accent color for fall ensembles at the Broken Arrow Goodwill® store. |
| | |
| --- | --- |
| | |
| Under Armour in various sizes at the 2800 SW Blvd. Goodwill® store. | Good quality team jerseys from former players often pop up at Goodwill®, such as these from the 2800 SW BLVD store. |
Life's a sport
Pieces like those worn by today's tennis stars, for instance, are great for creating stylish layered outfits for warm fall days. And thanks to brands like the uber-popular Under Armour, workout gear isn't just for the track or gym anymore. At the 2800 SW Blvd. Goodwill® store, Under Armour clothing can be even less than outlet store prices: undergarments start at $6.99 ($20, regular retail); kids' shirts are as low as $6.99; and women's shorts and shirts, typically $45, start at $22.99.
Meanwhile, football has arrived, the baseball playoffs are coming, and high school soccer teams are kicking it on the pitch. If you're looking to incorporate your favorite team into your fashion style, Goodwill® can accommodate. Team apparel can be found in many styles, such as knit hoodies, fleece pullovers and yoga pants. Team Jerseys and polo shirts are available in boys' and young men sizes, and go nicely with a pair of jeans or khakis.
Big names, big deals
Shoppers can save money on designer jeans in good condition from brands such as True Religion and Miss Me at Goodwill®.
Who wouldn't mind one or two designer options in their fall lineup? Try Goodwill® first for hot topic jeans such as Miss Me, Juicy Couture, True Religion and 7 for all Man Kind. When available, these gently-used or nearly new items are specially priced, but much less than regular retail prices. At 2800 SW Blvd., True Religion jeans, $200-$250 brand new, start at $45. Miss Me jeans start at $25 at the store, far below the usual $86-$88 price tag.
Prices and selections vary at each Goodwill® store. Juniors can expect to save big on a bold and beautiful look for the fall.