Menu
Give and create in eastern Oklahoma and southwest Missouri
9/18/2013
New public service ads show how Goodwill® makes brighter futures for communities like ours
Most people know Goodwill® as a place to donate their gently used items or to find great deals on clothing, housewares and other goods. But do they think of Goodwill® as a job creator?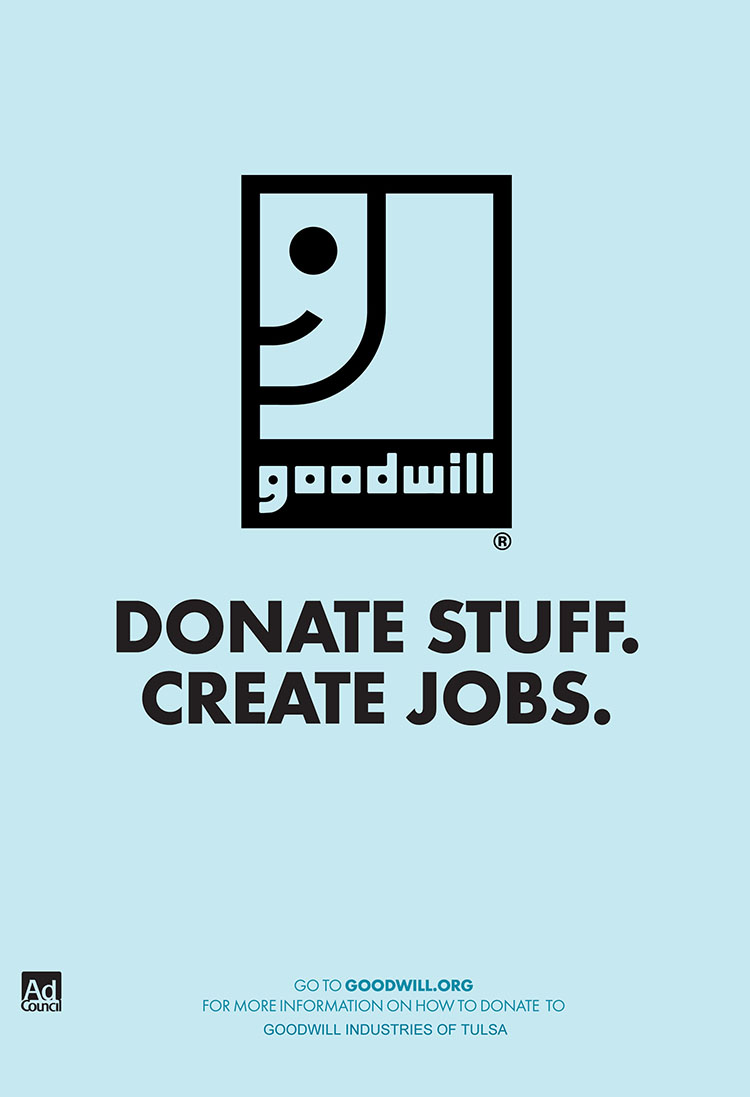 courtesy Goodwill Industries International; The Ad Council
At Goodwill Industries of Tulsa, the money we raise by selling donated goods in our retail stores helps fund our various programs. In turn, those programs help people such as Cliffton Manuel, who after struggling with many odd jobs, was able to land a steady position as a private security officer. Or Julia Parks, who not only discovered a career change that benefited her family, but also found her potential.

Last year, 1009 people found jobs in our community with help from Goodwill Tulsa. Through August 2013, an additional 633 people have earned jobs with Goodwill Tulsa's help.

Meanwhile, about 217,000 people in the United States and Canada obtained meaningful employment as a result of Goodwill's career services last year. In addition, Goodwill® provided employment training, job placement and other community-based services, such as financial education and youth mentoring, to more than 6.7 million people.

Goodwill Tulsa is proud to join a nationwide effort with The Ad Council to encourage all Americans to help create jobs by donating to Goodwill®. Our new public service advertisements (PSAs) set out to educate audiences about how their donated goods help fund job training programs in their communities. The "Donate Stuff. Create Jobs." campaign seeks to highlight the role that Goodwill® plays in promoting independence and dignity for people of all backgrounds.
The ads will be distributed in English and Spanish to the Ad Council's network of more than 33,000 TV, radio, outdoor, print and digital media outlets. UPDATE: The spots expired August 20, 2015. The content is not available after that date.
You may know the Ad Council as the nonprofit behind thousands of memorable and successful PSA campaigns that have addressed the most pressing social issues of the day. Now, it's teamed up with Goodwill® to promote the message that a simple goods donation can help people find dignity, meaning and purpose.

It's not news that in the current economic landscape, good jobs can be difficult to come by, but it may be wonderful news that there is a way to help. At Goodwill®, we're doing our part to help people get back on their feet. We hope that you will, too.