Menu
Baxter's B.A. Goodwill adventure
10/18/2013
Broken Arrow Goodwill team members and customers rally to reunite a lost dog with its family. Store manager Andrea Gardner Terrell tells the story. It began Sunday, Oct. 6…
"One of my sales associates informed me that a lost dog was roaming in our parking lot. Afraid that the dog would get hit, several concerned customers brought him into the foyer.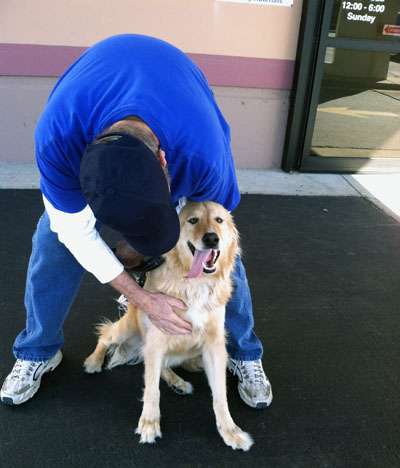 Photo by Andrea Gardner Terrell
Goodwill® donation attendant Roger Prickett assists Baxter, who had wandered into the parking lot in Broken Arrow.
"Mild-tempered, yet playful, the dog sat quietly while several customers discussed where the dog might have come from and how the missing family might be worried. A few even made comments of 'wishing they could take him home.' My sales associate then turned to me and asked if there was something we could do after hearing someone comment ' hope the pound doesn't get him.' I called my husband to see if he could come up to the store. He was okay with us putting him up for the night.
"My thought was to put his photo on FB and see if we would be able to find his owners. With the help of my friends in donations (who even had doggie treats!), I took a photo and sent the picture to my dad's wife. She shares photos from Tulsa's Animal Shelter on Lost and Found pets on her page. Later, my daughter walked a few blocks to see if perhaps someone would recognize him.
"I received a text message that someone contacted my dad's wife stating that this may be their dog and we would be their 'hero.' I made contact with her and found out that we live only blocks from one another.
"Excited, I told my daughter (who is an animal advocate) that we may have found the owners and his name was Baxter! She screamed and when we called out his name, he, too, jumped for joy!
"The husband, Wes, came over; Baxter ran to his master. Turns out, he and his family are donors but have never shopped in our store. I invited them to shop their 'local Goodwill Store.'
I've been saying that I wanted to get out more in my neighborhood to see how many residents donate to and shop our stores."