Menu
Volunteer moved by helping others find work
10/21/2013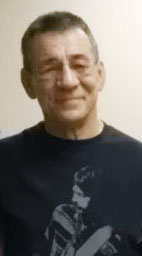 Majors
Goodwill® Job Connection exceeded its job placement goals for the quarter, due in large part to the diligent work of volunteers who very generously gave their time and services to make more than a thousand follow-up phone calls to clients.

One of those volunteers was David Majors who was responsible for bringing in approximately 80-100 placements for Job Connection during his 6-week assignment. He also made follow-up calls for TulsaWORKS and Beyond Jobs, bringing in 8-10 placements for those programs.
David wrote about his experience at Goodwill Job Connection (edited for length):
---

On August 12, 2013, my journey started with handshakes and smiles from two ladies, Clarice and Diane. After a brief tour of the office, I was led into a room with just a table, chair, and telephone. What I didn't know was that "THE TELEPHONE" was going to be the tool of my trade at Goodwill. Next came the stacks of phone lists, a script of what to say, and a pen. I was told to practice the script, so I would know what to say. What I didn't know at that time was that I was going to say the same thing over and over and over a lot for the next six weeks. To the point I could say it in my sleep!

So what is the result of all these phone calls? Well, for one thing we met our quota for the month of September and then some. But is it really about numbers? NO! It's about helping people and changing lives that matters!|

What did I receive from my experience at Goodwill? The biggest gift I received was knowing I made a difference in someone's life. To hear the joy in a person's voice when I told them, "come in and get a $35 clothing voucher" to buy clothes at the Goodwill store for their new job. To have someone stop by your desk and say, "thank you for calling me the other day," with a smile on their face.

I also learned a few people skills by watching Clarice and Diane work with the clients, all positive in nature. Like how to act or react even when presented with negative behavior. I never can say thank you enough to the people at Goodwill for showing me how to really care about someone else's life instead of mine.

Now about the funny parts of my experience: Having lunch with Diane, Paul and Greta every day was the high point of my day, always joy and laughter around the lunch table, even when Scott dropped in — just kidding Scott!

The bottom line is this: I will always remember my six weeks at Goodwill. It was and always will be a positive and life changing part of my life.