Menu
Goodwill employees make heartwarming gesture
1/18/2016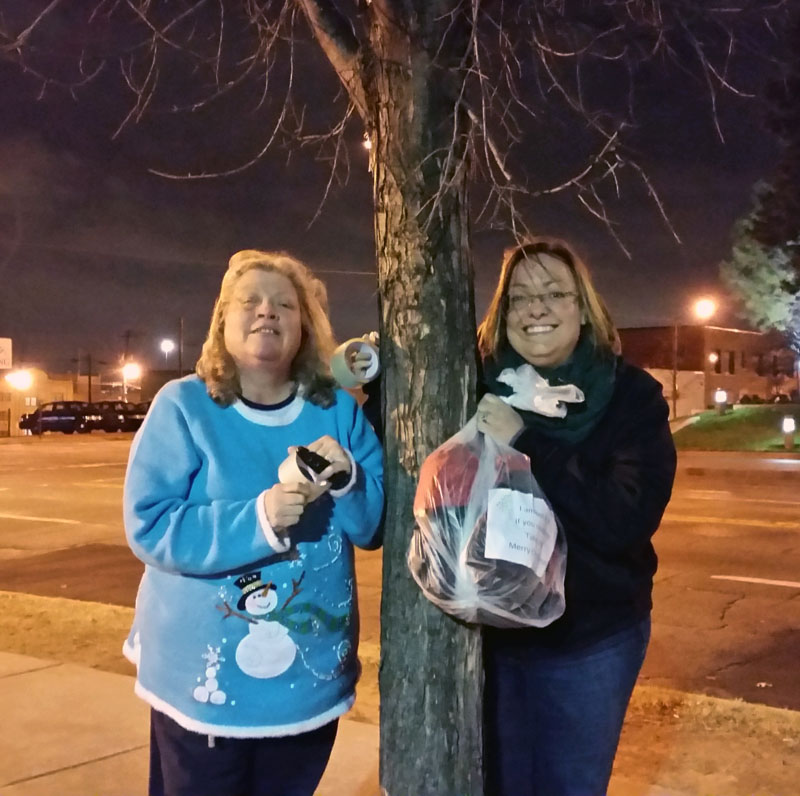 Robyn Lisk and Hannah Iron of Goodwill
Inspired by a Good Samaritan story in Maine, the retail team at the Stone Creek Goodwill® Store helped Tulsa's homeless stay warm this past holiday season.
The team bought 38 coats for people in need instead of exchanging gifts, said store manager Robyn Lisk.
One night in late December, they tied bags packed with a coat, hats, gloves and socks to trees and poles near a church in downtown Tulsa. They attached notes, saying the bags were free for anyone who needed them.
Stone Creek customer service manager Hannah Iron saw a Today.com story on Facebook about a college student who had hung jackets she had thrifted on lamp posts in Portland, Maine. The woman had taped a note to each jacket: "I am not lost! Please take me if you need me."
"Hannah thought that would be cool to do," Lisk said.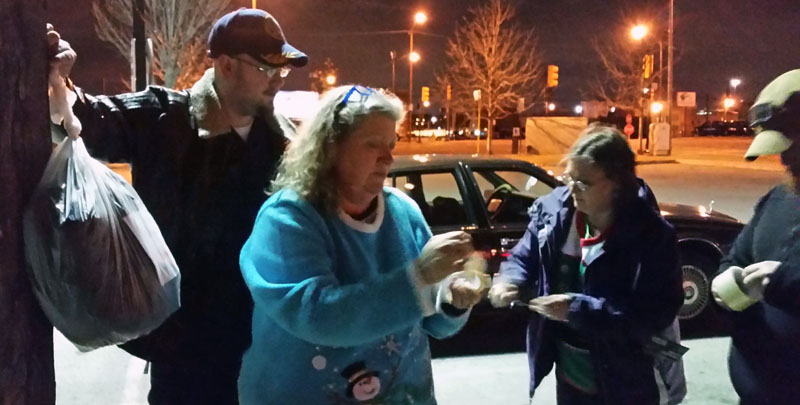 Tim Lisk (from left), Robyn Lisk, Connie Clevenger and Robert Lisk hang a bag with a coat in downtown Tulsa. The bag was free to anyone who needed it. / Photo by Hannah Iron
Lisk's son, Tim, recommended the location near Trinity Episcopal Church on South Cincinnati, where Iron Gate operates a soup kitchen and food pantry. He used to see homeless people gather in the courtyard for a free breakfast when he was a security guard at the PSO building across the street (he took unarmed private security training at Goodwill TulsaWORKS).
"We chose that spot because we knew we would get some traffic," Lisk said.
They were busy securing the bags to the trees under the glowing street lights, when a man approached Tim Lisk. He asked what they were doing. After explaining, Tim gave a pack to the man, who faded back into the darkened courtyard. A few moments later, the man returned saying he'd taken a women's coat. Tim Lisk gave him another pack with a men's coat and told him to take the other one back and "give it to somebody."
"We heard squealing in the courtyard," Lisk said. "They were so excited."
The store team's act of kindness had a double impact. They had provided warmth to a group of people living on the cold streets; and by purchasing the coats at Goodwill, they had supported Goodwill's job training and employment programs.
"We're going to do it every year," Lisk said.