Menu
Goodwill Tulsa to stop taking furniture, TVs
6/10/2016
TO OUR VALUED DONORS:
Goodwill Industries of Tulsa will no longer be accepting furniture or televisions effective July 1, 2016.
OUR MISSION:
Goodwill Industries of Tulsa provides work opportunities, job training and support services for people with disabilities or other employment barriers.
STEWARDSHIP:
In fulfilling our mission, we endeavor to be good stewards of the donations we receive and make every effort to maximize the value of each item in order to generate revenue to support our programs. Unfortunately, there are some items that we have identified that cost more to handle than the revenue we can generate from selling them. In fact, many of the items are not salable and Goodwill has to bear the cost of disposing of them, taking monies away from our training programs.
SUSTAINABILITY:
We are committed to minimizing our impact on the environment and we have adopted green initiatives to achieve that goal, primarily through the reduction of landfill waste. In an effort to further reduce our environmental impact, we have identified furniture and televisions as the primary components of our landfill waste stream.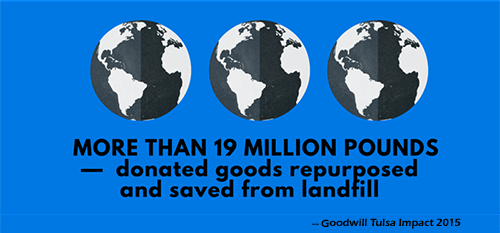 To further our commitment to sustainability, Goodwill Industries of Tulsa WILL NO LONGER BE ACCEPTING FURNITURE OR TELEVISIONS EFFECTIVE JULY 1, 2016.
We appreciate your continued support as we endeavor to reduce our environmental impact.
More
Visit our website for complete donation information.