Menu
Direct Support Professionals Week — Goodwill Contract Services
9/13/2016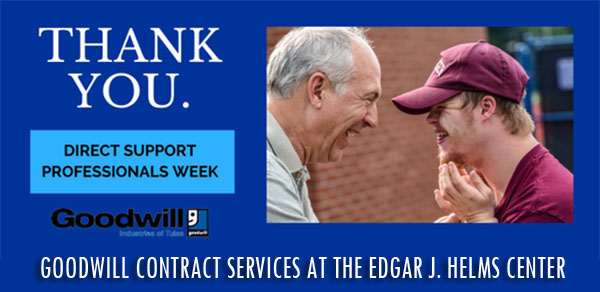 At Goodwill Contract Services, eight staff members and the director have a combined 102.5 years of service. This is an amazing number considering each staff person has worked with the same director for all of their years at Goodwill. They love what they do and they want to make a difference in the lives of the people they serve.
These dedicated staff members provide more than a paid job skills training opportunity for supported workers. One of the reasons supported workers are in the center-based training program is their level of disabilities and the extended barriers to community employment that presents. Over the years, unforeseen needs can pop up at any time and our team has to meet those needs.
The director, who is also a hands-on direct support professional, is responsible for directly and indirectly supervising GCS staff, job coaches and supported workers. The director prepares and executes objectives and action plans in support of the organization's strategic plan and Goodwill's mission. Along with constantly pursuing additional contracts and work opportunities; hiring and training; and providing case management services, the director participates in the daily support and encouragement of GCS workers.
The assistant to the director wears several hats. The assistant controls the "front of the facility" with tasks ranging from receptionist and phone operator to input of daily attendance and production count. The assistant is records keeper, party and events planner — and very often the first person to give a smile and a "listening ear." Keeping open communication with the families and residential providers for the GCS supported workers is important, and our assistant definitely meets this need.
The contract manager supervises and coordinates the processes required to perform various contracts. The contract manager also determines work sequences and equipment needs; handles shipping and receiving; and performs U.S. Department of Labor required tasks. Another essential duty is working with job coaches on meeting our goal of providing quantity and quality of service to the GCS workers and the companies who contract with us.
Without job coaches, there is no working program. Their basic duties are to train, support and encourage the supported workers in building their work skills. They do so much more. As material handlers, trainers, friends and cheerleaders, the job coaches supply the supported workers with all of the tools they need to be successful. They go above and beyond in assisting with everyday needs that we sometimes take for granted: preparing lunches, assisting with hygiene, consoling the sad, monitoring and assisting those that are limited. Most of all, our job coaches encourage everyone to be the best they can be.
We do all of this because we all believe in Goodwill's mission, vision and values.