Menu
Direct Support Professionals Week — Goodwill TulsaWORKS Career Academy
9/16/2016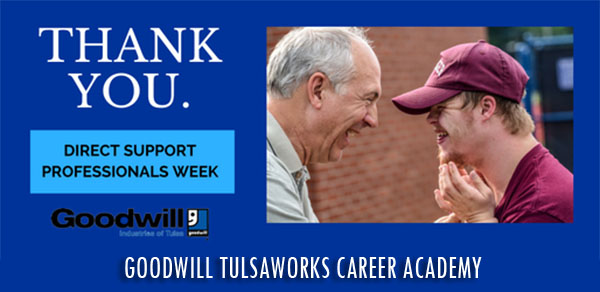 From its beginnings, the Goodwill TulsaWORKS Career Academy has existed to make a difference in the lives of those we have the privilege to serve.
Since 1996, the program has grown to include two Goodwill Job Connection locations and our Tulsa Reentry program — and the dedication to serve remains. When we speak of service, it needs to be understood that service cannot be accomplished without the persons whom we call our Instructors; our Career Navigators; our Job Connection Branch Managers and Job Specialists; our Tulsa Reentry Employment Specialists and Job Developer; our Coordinator; our Administrative Assistant and our Security Officer. Each of these individuals chose to enter this field of service to somehow change the trajectory of life for those who desire to obtain employment. They do so by strengthening, educating, training and empowering those job seekers.
We are so proud of the hearts and minds of the people that make up this fantastic team who work tirelessly for the mission of Goodwill. We have been accused of being unique, loud, working crazy hours and even different at times, but these mighty workers are here to "be the change you want to see in the world" (Mahatma Gandhi) one person at a time.
We are grateful to take time out to honor you all during this Direct Support Professionals week. And we are thankful to all you for being great ambassadors for Goodwill Industries of Tulsa, Inc.
Proudly Submitted,
Sabrina Ware, Director
TulsaWORKS Career Academy & Goodwill Job Connection