Menu
Back to the '40s: Jenks teen creates a vintage look on a budget
4/15/2018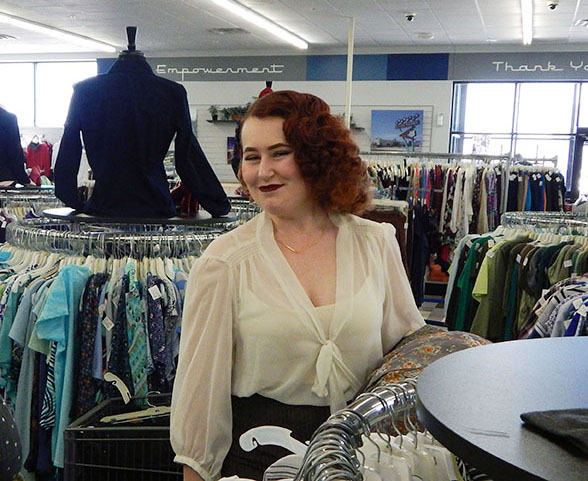 By Lindsey Meeker
Gooodwill Industries of Tulsa
Barely 10 minutes into her trip at the Goodwill® Store on Southwest Boulevard, Hannah Jackson already had her arms filled with possibilities.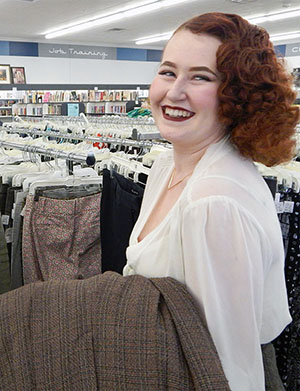 Hannah Jackson shops for vintage styles at the Southwest Boulevard Goodwill Store.

She quickly had to find a cart for all of her treasures — several blouses with floral patterns and pinstripes, and a charcoal-grey plaid wool skirt. Not exactly the kind of things you'd expect to see in an 18-year-old's cart. Hannah was thinking they were just her style.
Looking the part of a 1940s movie starlet, this high school senior from Jenks wore a flowy sheer cream blouse, a curve-hugging grey pencil skirt with ruffled fringe, and a pair of vintage tied burnt-yellow heels. Her auburn hair was perfectly curled, brushed, and set into old Hollywood waves.
Hannah is a 1940s enthusiast who loves the vintage style culture. A couple years ago, Hannah bet herself to see how long she could dress vintage Forties without repeating an outfit. She hasn't stopped since.
To school, to shop, to band practice, wherever, it's her daily style. Her Instagram feed, @nooneknows_itsyou-missjackson, is part style gallery, part how-to, and part daily journal. Hannah spends many of her weekends picking out vintage clothing at Goodwill, other thrift shops and flea markets. She also seeks out modern pieces that she can style into a 1940s era outfit.
"When I was in elementary school, I sewed Barbie clothes and stockings. In 5th or 6th grade, I learned how to sew my own clothes," said Hannah, adding that her mom taught her how to use the sewing machine. Now one of her favorite things to do, it also came in handy when she started dressing in vintage Forties style as she could alter her finds by herself.
"I love terrible patterns," she said as her fingers flicked through a rack of women's blouses, carefully checking for options. When Hannah shops, she focuses on men's slacks, women's button-up tops, pencil skirts, mid-calf/knee-length dresses, full skirts, and A-line dresses with the right fabrics and fits. Her main style is a Forties look, but she dabbles in other eras. For instance, she pulled out a beautiful blue dress with attached red polka dot collar that would make all "Mad Men" viewers swoon. Hannah later discovered an ILGWU (International Ladies Garment Worker Union) label inside, which dates the dress between 1964 and 1974.
Hannah loves being a part of the global vintage community. Her favorite Instagram follows — Rachel Maksy (@rachel_maksy), Jessica (@the.elegant.giraffe), and Ida Catherine (@idacath) — inspire her daily to try new things.
Thrift shops are prime hunting ground for Hannah and other vintage enthusiasts. Shopping Goodwill brings the added bonus of helping people find work. Shopper's purchases allow us to offer job training and employment opportunities to people in our community.
Hannah was scanning the shoe racks when another Goodwill shopper came up to her. "You look beautiful," she said. "Thank you," Hannah said graciously and laughed. She is no stranger to the looks, stares or comments. On Instagram, you can read some of the funny comments that she hears in the school hallways like, "You look like a doll from pioneer days that a small child would really like to play with."
Hannah had this to say for others who want to change up their look: "Live your life. Don't let others discourage you.