Menu
Goodwill named Veteran Employer Champion
6/22/2018
Goodwill has earned a new local distinction: Veteran Employer Champion.
At a ceremony Wednesday, Tulsa Mayor G.T. Bynum recognized the inaugural group of Veteran Employer Champions, a program that recognizes dedicated efforts in finding work for veterans in Oklahoma. The program is a partnership between the City of Tulsa, Community Service Council, Warrior Partnerships of Eastern Oklahoma, DR Consulting and the Oklahoma Department of Veteran Affairs.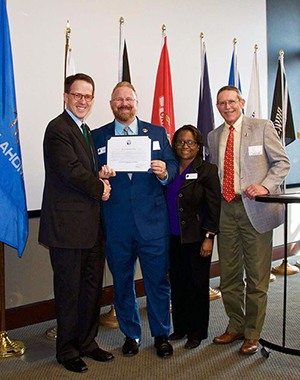 Courtesy photo
(From left) Tulsa Mayor G.T. Bynum; Goodwill TulsaWORKS Career Academy Coordinator Parrish McDaris; TulsaWORKS Director Sabrina Ware; and Goodwill Industries of Tulsa President David Oliver
Goodwill and the 12 other organizations had to meet a set of benchmarks to earn the Veteran Employer Champion recognition (see infographic below). The program's long-term vision is of a network that supports the recruiting, hiring and developing of veterans.
"We will continue to identify champions and grow this network, which will include peer learning opportunities for employers to best support the veterans in their workforce," said Pete Luitwieler, program manager for Community Service Council's Oklahoma Veteran Connections and Warrior Partnerships of Eastern Oklahoma programs.
Veterans and their families can learn more about Goodwill's job training programs by calling 918-581-1256 or visiting our website.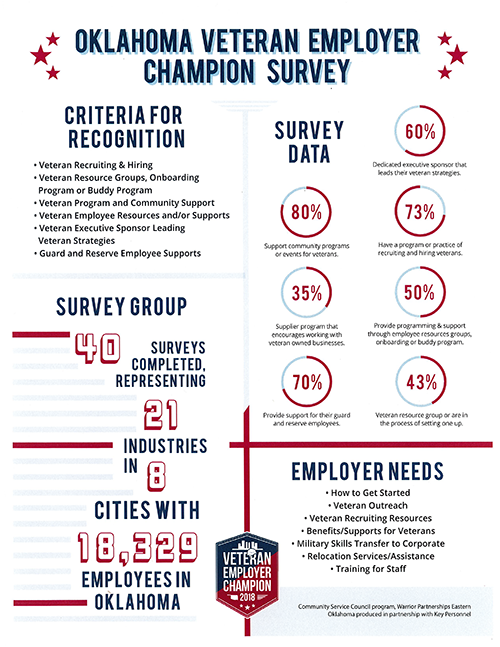 More