Menu
Goodwill Success Story: Meet Danielle
10/26/2018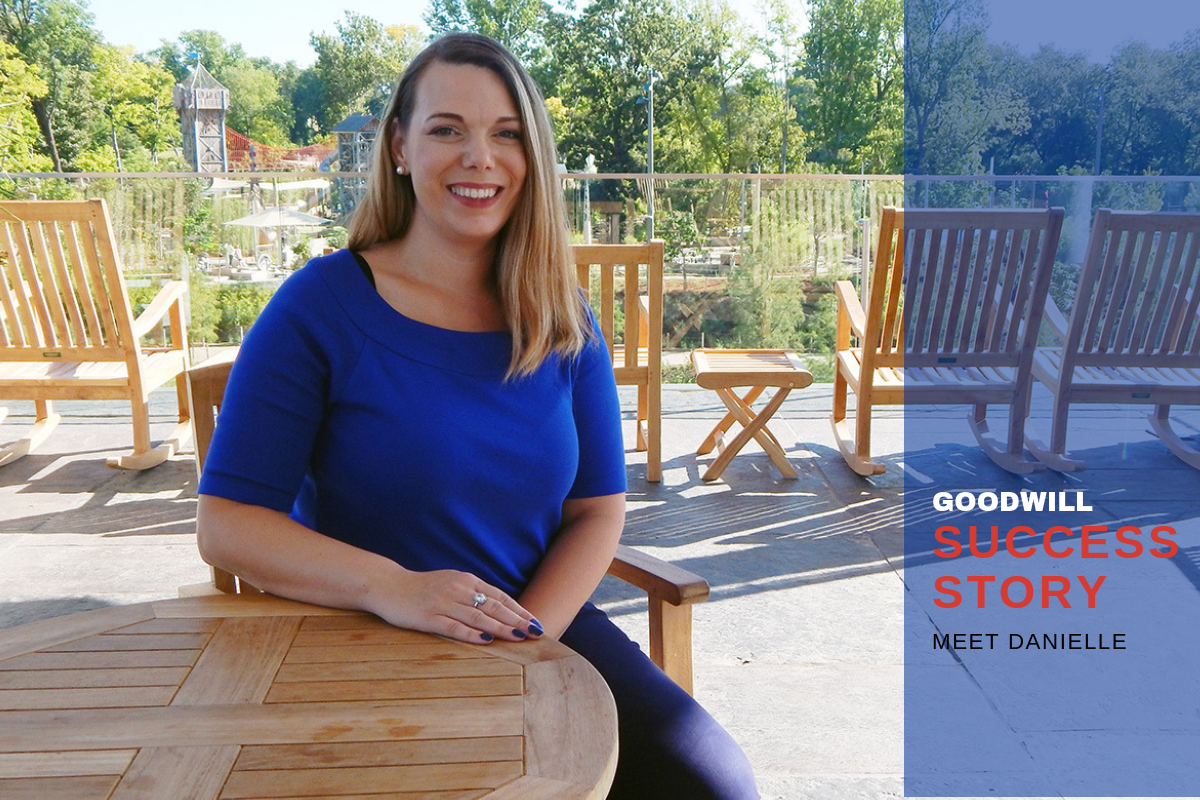 Danielle Clark gleefully pulled out her phone to show a video of The Roots performing on an outdoor stage. She wondered aloud: How did taking a class in IT support at Goodwill lead to her being backstage with The Roots?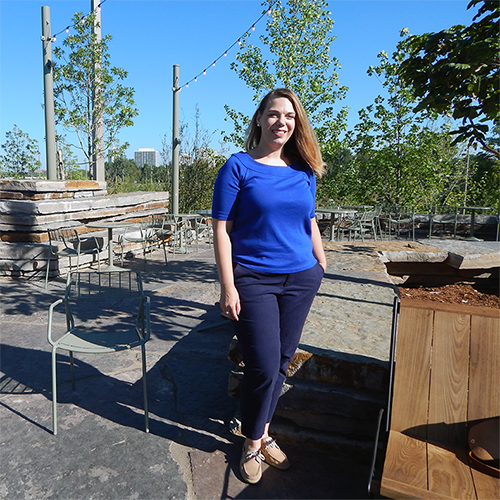 ABOVE: Support tech assistant Danielle stands in one of the many outdoor seating areas at The Gathering Place in Tulsa.
BELOW: The Adventure Playground at The Gathering Place rises up behind Danielle.
"I couldn't envision this job when I started the class, maybe help desk," Danielle said. "I never expected to get here."
Here is The Gathering Place, Tulsa's 100-acre riverfront park that opened in September. The job is as a Tier 1 IT technician at the massive park.
Danielle, 36, watched as the park started to bustle with activity through the large pane windows at The Lodge. Her surroundings amaze her. She is equally amazed at how far she has come.
"Not every office is a world class park!" she said.
Seven months ago, Danielle was struggling to find work after moving from the East Coast back home to Tulsa. Her background was in restaurants, but she was finding her skills were not transferrable to the jobs available. She was a single mother supporting two young children, which added to the pressure of finding work.
One of many online searches led her to the Computer Tech Support/A+ Training class at Goodwill TulsaWORKS Career Academy. She would be going in to the class "on a square one basis" with very little knowledge of IT. But she hoped that taking the class would help her chances of finding a job.
Danielle praised TulsaWORKS, Workforce Tulsa, and her career navigator, David Goff, for her progress through the class. She appreciated IT instructor William White's "let's find out together" approach to teaching. She gained immensely important and valuable real world experience through her externship at 501Tech.net, a nonprofit that provides low-cost IT support and equipment to other nonprofits across Oklahoma.
The experience gave Danielle the confidence to pursue her CompTIA A+ certification, which certifies that the tech professional has a solid entry-level competency in the field.
"Now I know my stuff," she said. "I know I can do this."
Danielle completed the externship and stayed on with 501Tech as a Tier 1 Tech.
And that's how she ended up at The Gathering Place.
The Tulsa Community Foundation partnered with 501Tech to oversee tech support at the park. For Danielle, her job is a nice mix of tasks that takes her to places across the park. There is a buzz around the park, she said, and the job is exciting and never boring. (She gets around in a golf cart!) Danielle added that she is learning so much more about teamwork and she is building work relationships with everyone at the park.
She credits much of her new work life to the skills and confidence she gained through Goodwill and TulsaWORKS. She witnessed how deeply and sincerely invested the TulsaWORKS team was in an individual's success.
"They work with each student to see what the barrier is, and what they need to do to overcome it," Danielle explained. "You literally see people build their self-esteem right in front of you."
Sitting in the Lodge, looking out over the park, Danielle is convinced that anyone who is willing to put in the work can also succeed in Goodwill's training programs.
"I've gained so much from this program. I would not be here today," she said looking out the window, a satisfied smile on her face.