Menu
The Lumina Talent Hub and Goodwill
12/6/2018
Have you heard? Tulsa has been named a Talent Hub by the Lumina Foundation!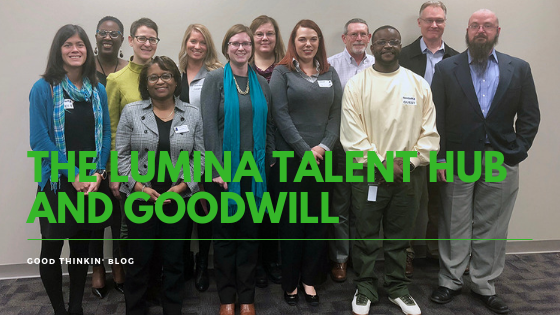 The Tulsa Talent Hub will focus on increasing the number of people in our community with education and certifications beyond high school. In partnership with the Lumina Foundation and Tulsa Regional Chamber, Goodwill plans to strengthen its workforce development programs for individuals with barriers to employment.
Goodwill TulsaWORKS Career Academy provides job training that leads to certifications for in-demand jobs right here in Tulsa. Recently, Tulsa Regional Chamber brought representatives from Equal Measure to meet with Goodwill to learn more about its good work in the community.
Goodwill TulsaWORKS graduates shared their career success as a result of completing courses. Danielle, a recent graduate of Goodwill TulsaWORKS's Computer Support Tech course, said "As a single mom, Goodwill helped me make immediate advancements in my career pathway by showing me practical steps to take."
Goodwill's community partners shared their experience working with Goodwill to achieve their hiring needs to fill in-demand jobs with trained employees. Emily with the BOK exclaimed, "As a recruiter, this place is a goldmine!"
Kuma with Tulsa Regional Chamber, along with Kim and Victoria with Equal Measure, ended the day touring Goodwill TulsaWORKS Career Academy. "I am so proud of the collaboration between Goodwill, our Tulsa employers, and our graduates," Sabrina Ware, director of Goodwill TulsaWORKS Career Academy said. "Today demonstrated the ways training at Goodwill produces certified talent to fill open positions, which not only creates career pathways for our students, but also improves their lives."
MORE
Tulsa Regional Chamber, tulsachamber.com
Lumina Foundation, luminafoundation.org
Equal Measure, www.equalmeasure.org