Menu
Visiting with VITA volunteers
2/20/2019 8:00:00 AM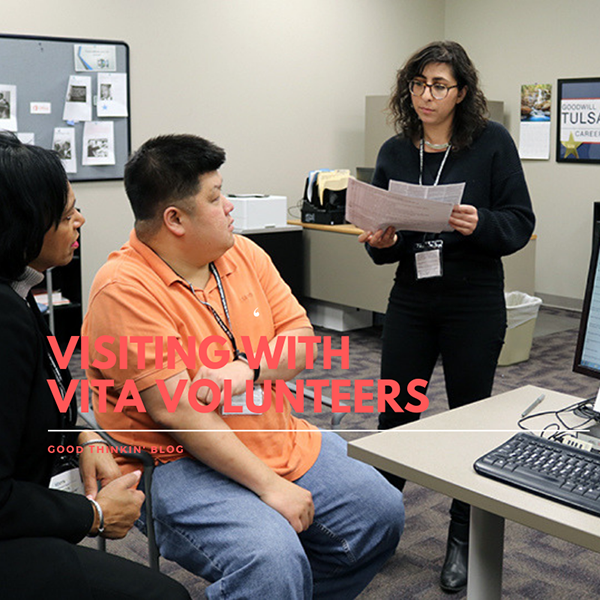 While the winds were howling outside on Saturday morning, inside Goodwill's doors over 50 tax returns were processed for our community members.
Goodwill is one of five host sites for Tulsa Area United Way's Volunteer Income Tax Assistance Program (VITA). This service is designed to serve families with free income tax return preparation by IRS trained and certified volunteers.
This was Keryn's first year as an IRS-certified tax preparer and she reports the challenges and rewards of a hard working day. "Assisting someone with their tax return is a big responsibility," she said. "You want to ensure every box is checked and all entries are accurate." But the reward is even bigger for Keryn. "It is my personal mission to take my personal time to serve the community," she said.


A volunteer works with a client at Goodwill's Voluntary Income Tax Assistance (VITA) site.

Volunteers like Keryn make days like today possible. Another hero with no cape is Robin, the Goodwill VITA Site Coordinator. He assists those whose returns are rejected. "If the IRS has a question upon submission, I assist the individuals to ensure their return is accepted," Robin said.
He has served as a VITA volunteer for years and has now earned a leadership role that comes as no surprise once speaking with him. Robin's outlook is simple – "I like numbers," he said. "So I enjoy helping others who may not like numbers as much as I do."
Robin encourages the community members to stop by the Goodwill VITA site this season. "It's a free service," he said. "And you are in good hands with experienced volunteers who are here to help!"
Tax preparation starts at 9 a.m., but doors open at Goodwill at 8 a.m. Plan to get here early this Saturday to ensure you land one of the 50 spots available.
MORE
For more information on eligibility requirements, visit Tulsa Area United Way VITA information
Or for free tax assistance outside the Tulsa area, visit this online form or call 2-1-1.