Menu
Goodwill Repeats as a Veteran Employer Champion
7/3/2019
For the second consecutive year, City of Tulsa Mayor G.T. Bynum, Community Service Council and Oklahoma Veteran Alliance recognized Goodwill Industries of Tulsa as a Veteran Employer Champion for supporting veterans in the workplace.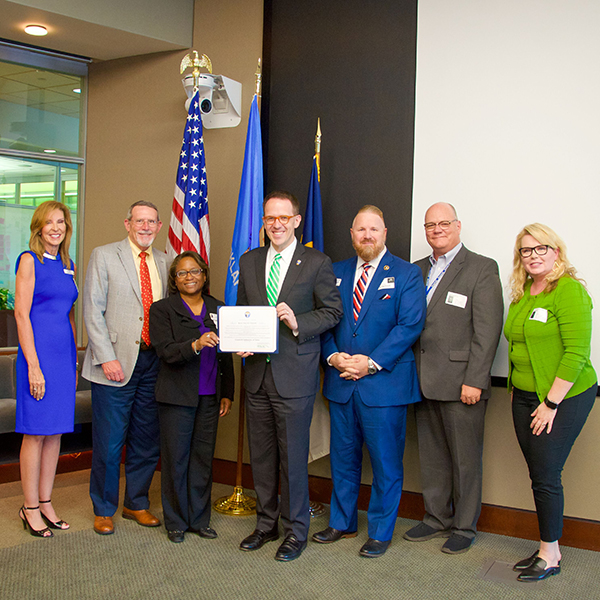 The Veteran Employer Champions program is the product of a statewide survey launched at a Governor's Veteran Symposium in October 2017 with the goal of building an employer network to create programming and peer-to-peer learning for organizations interested in recruiting, hiring and developing veterans in the workplace.
This is the second year for the Veteran Employer Champion Survey. For 2019, Goodwill and the other recipients had to show a deeper level of work to be recognized. The survey encourages employers to continually take intentional steps to ensure they are creating a veteran-ready workplace to be recognized as a champion.
Courtesy Photo: City of Tulsa Mayor G.T. Bynum (center) stands with representatives from Goodwill Tulsa and others at the Veteran Employer Champions announcement ceremony on July 1. (From left) Panela Ballard, CEO of the Community Service Council; David Oliver, president of Goodwill Industries of Tulsa; Sabrina Ware, director of Goodwill TulsaWORKS Career Academy and Goodwill Job Connection; Parrish McDaris, coordinator of TulsaWORKS; Rick Wyatt, human resources assistant at Goodwill; and Denise Reid, board member of the Community Service Council.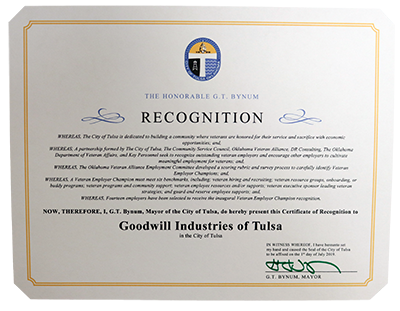 To earn recognition as a Veteran Employer Champion, companies must meet six benchmarks: veteran hiring and recruiting; veteran resource groups, onboarding, or buddy programs; veteran programs and community support; veteran employee resources and/or supports; veteran executive sponsor leading veteran strategies; and guard and reserve employee supports.
Including Goodwill, 14 companies were recognized Monday: American Electric Power/Public Service Company of Oklahoma; Americon Technologies; Baker Hughes, a GE Company; Berryhill Fire Protection District; Chesapeake Energy Corporation; City of Tulsa; Enterprise Holdings; Lowe's; Melton Truck Lines; NextOp; ONE Gas; ONEOK; and Spirit AeroSystems. The program recognized Bizjet International with an honorable mention.

Goodwill is committed to helping veterans succeed in the workplace as are others like the City of Tulsa, which is taking a lead effort in expanding employment opportunities for veterans within the Tulsa community.
"We want Tulsa to be a city where veterans are honored for their sacrifice with community support, economic opportunities and quality healthcare," Mayor Bynum said. "Our goal with this program is to properly recognize those community partners who demonstrate their commitment to supporting Tulsa veterans with meaningful employment and growth opportunities."
More
To post comments, Click Here to Login