Menu
Goodwill TulsaWORKS Career Academy can open the door to a career for the rest of your life
1/8/2020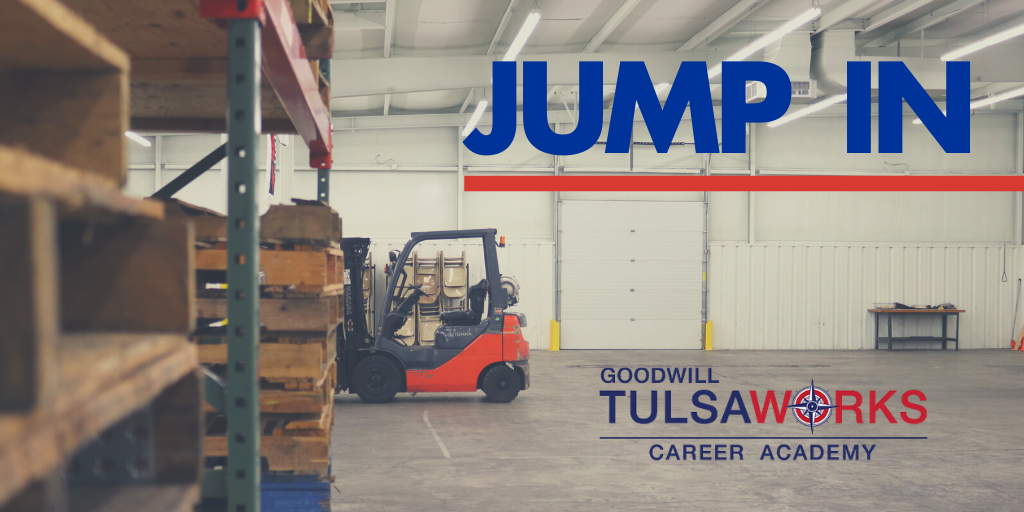 The Goodwill TulsaWORKS Career Academy offers you more than just a path to your next job. The classes can give you a boost into a long-term career.
If you want to transition into a new career that has (literally) tons of potential for growth, Goodwill TulsaWORKS Career Academy's forklift certification is the kick start you need.
The Tulsa area is undergoing a
boom in distribution
and manufacturing. It's because the city lies at the heart of the nation. The region is seeing new distribution centers pop up all the time. And that means new jobs open up practically every day.


Our forklift training area offers hands-on experience in the operation of several classes of forklift.

A good, hard-working participant who completes our forklift course should be able to find a job in one of those many distribution centers. That person may begin as a warehouse associate or entry level crew member. But, after a year or so their forklift certification could open doors. They'd likely be able to move into a role as a lift truck operator. And, that's not the end of the line. It is absolutely reasonable to believe that person could move into management within five years of completing our course.
Our three-day class gives a person intimate knowledge of forklift operation and safety with plenty of hands-on training. The course is
OSHA compliant in forklift classes I, III, IV, and V
. Employers will often still require you to pass their company-specific training after being hired.
To sign up,
click here
.
To post comments, Click Here to Login