Menu
Thrifty Springtime Room Refresh
5/20/2020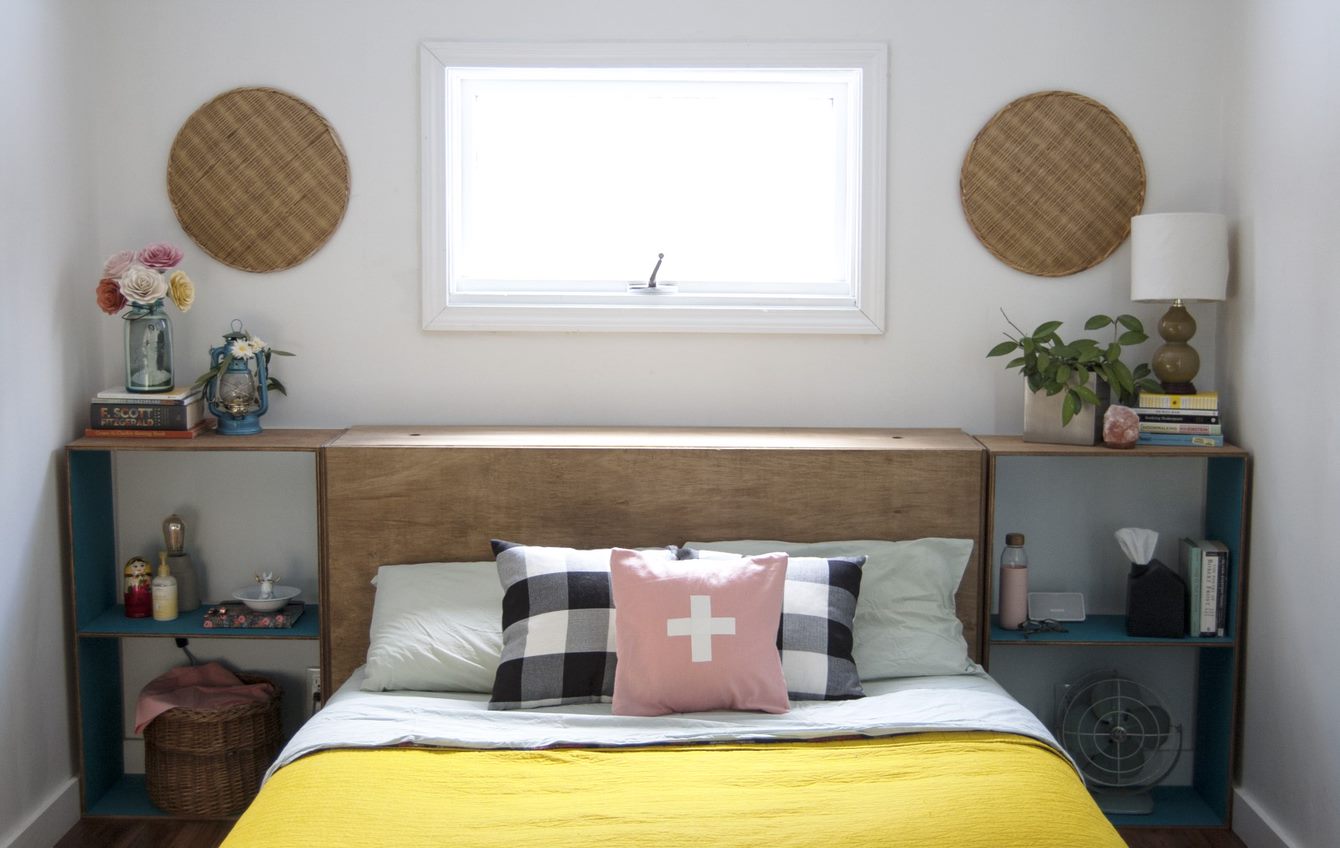 All winter I look forward to opening the windows when spring arrives so I can feel that first fresh breeze blow through. It's such an inspiring feeling that I wanted to capture it to enjoy year-round. Well, I can't do that. But I can give my bedroom a refresh that reminds me of it! Read on to find out how I brought a spring-like feel to my bedroom to keep that cheerful mood all year.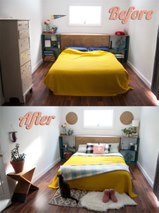 When I look at the before picture of my bedroom I think "Yikes! Does someone even live there?" It's an oddly shaped room which presents its own challenges and it has never felt cozy. Having spent forever on the back burner to our other home projects, it was clearly time for a new look. A fresh start for spring.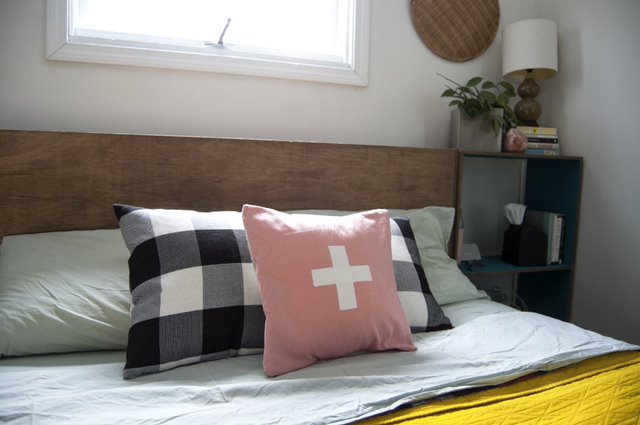 I started this revamp the same way that I start every organization or cleaning spree—by pulling out everything I don't like about a space. I eye and assess each item as I go. If I don't need something and don't like it, I'll toss it in the donate bin. If I do need something (like all of the fabrics that are hiding in the paper bag in the before photo), but hate the way it looks, I remove it temporarily until I can come back with a solution. Whatever's left after I sift through everything will serve as the foundation upon which I build a new decor scheme so I try to look at what's left with fresh, objective eyes before I go out shopping.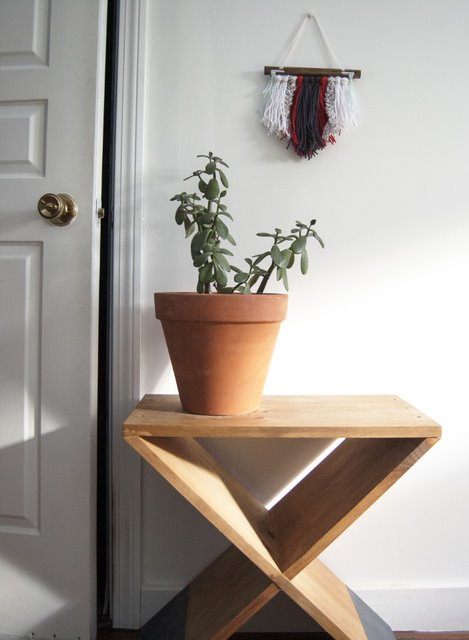 The solution for the fabric pile ended up coinciding with one spring-like theme I knew I wanted to bring in: picnicking. It was easy to capture the mood of this fun spring activity by adding in basket-weave textures so that was one of the first shelves I swung by on my latest Goodwill trip. Both of the winnowing baskets that I hung on the wall plus the large basket that is now home to my fabrics jumped right out at me. Fabric storage problem solved! Picnic mood accomplished. The rest of my issues pretty much sorted themselves out as I updated the space using these room refresh tips…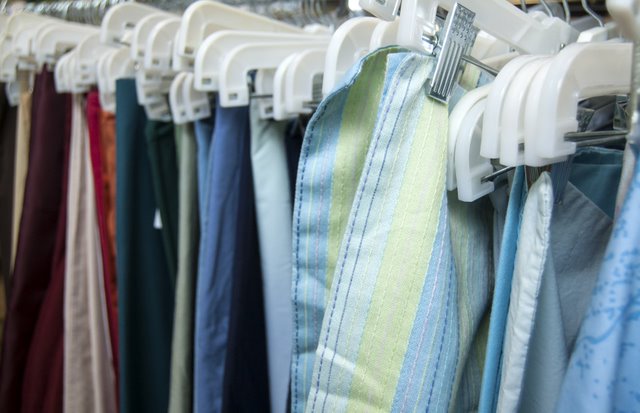 Tip 1: Bring in spring colors. First, I removed the heavy, dark colors that were clouding up my bedroom. Of course pastels are a spring staple, so I knew I wanted to include more pink and light blue when I was ready to add things back in. Two easy ways to do this are with books and blankets. You can't have too many of either! I never skip the book section of my local Goodwill for exactly this reason. Books can be displayed in so many beautiful ways and they're entertainment at the same time!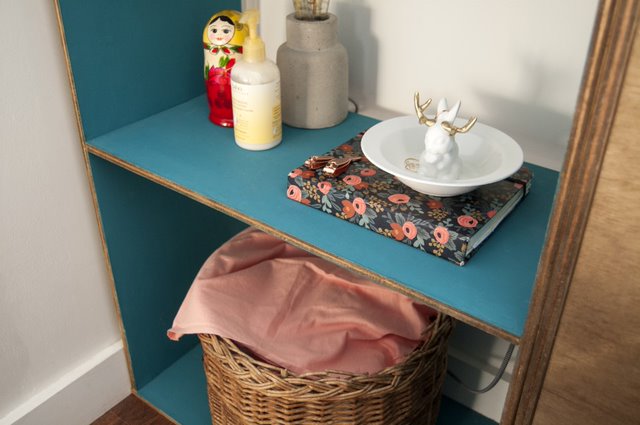 Tip 2: Shop your own home! Although you will need to bring in a few new (to you) pieces for the space to feel really fresh, you can first walk around your house looking for the right colors or items to rehome. If you don't absolutely love something where it is, try it in the room you're reworking. I do this a lot and end up seeing new potential in items that I never saw before! For example, you may recognize the little ceramic bunny from a previous post. I got it from Goodwill last year, but rabbits are so perfect for spring that I wanted to try it in my room. I did a little brainstorming and realized that with some antlers (which I made from Sculpee), a shallow thrifted bowl, and glue it could become a bedside jackalope ring holder. It's a giggle and good storage all at once.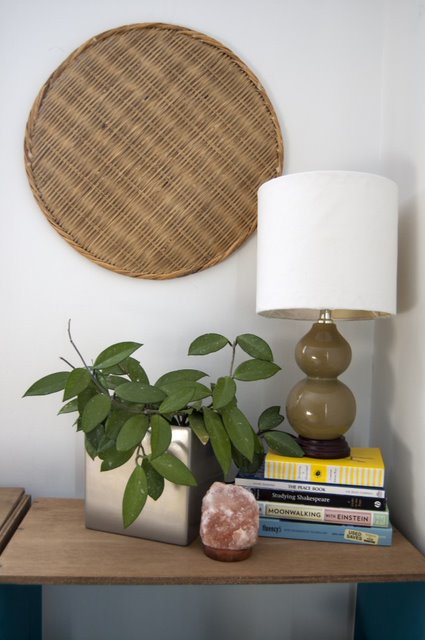 Tip 3: Add height for an uplifting feeling. If you look at the before and after photos, you can actually see the room rise a little after being restyled. Just by adding height to the arrangement on the right side of the headboard, putting the winnowing baskets up, and fluffing/bringing in more pillows, the room feels lighter and more uplifting. I thrifted the green lamp from Goodwill years ago and added that floral fabric to the shade myself. It worked in the space where it originally lived in our old apartment, but it has never felt right in this home. So, for this room refresh I peeled the old fabric off and replaced it with a fresh white. It felt so cramped down in that nook where it was. Moving it up shows it off so much better and elevates the space!
Tip 4: Bring in plants and flowers (even if they're fake). Rooms feel instantly more alive with greenery and blooms, so I made sure to include some in this refresh. I already had the faux flowers on the left side of the headboard, but I brought in two real plants as well and they made a huge difference! There's nothing more exemplary of spring.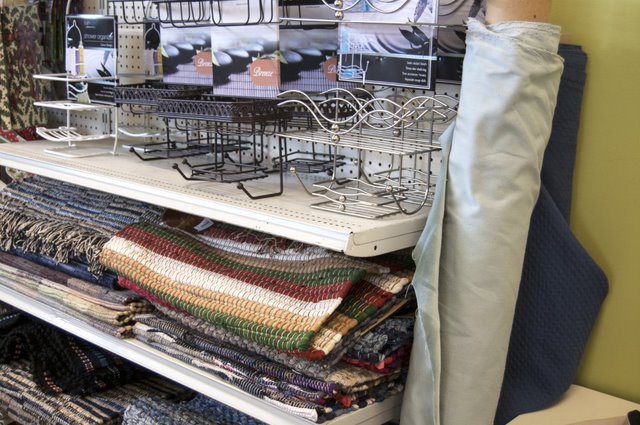 Tip 5: Soften the surfaces. Another important piece that improved my room was the addition of more plush surfaces. In the picture above you can see two whole shelves of throw rugs at my local Goodwill. There was another shelf under it filled with even more plus rug pads, too. I had been looking for a runner to go at the foot of my bed, but nothing felt quite right until I realized I could use two slightly overlapping mats for the same effect! These coupled with my new pillows made the place feel so much more inviting.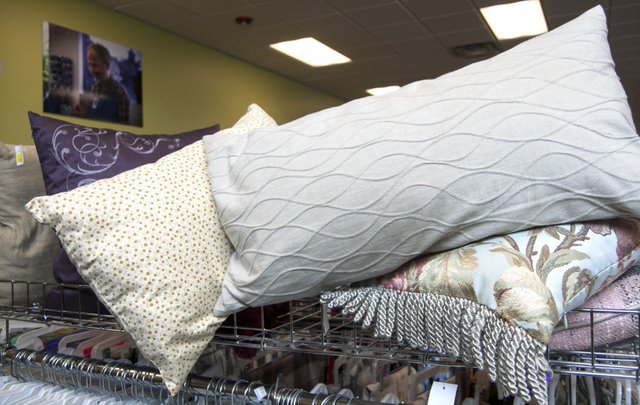 Speaking of pillows, the pink one is another DIY! My Goodwill always has fun throw pillows for sale. While browsing, I almost bought this light gray one from Calvin Klein, but ended up skipping it in favor of more color. Neutrals are fantastic, but I knew I already had enough in this room. So I set my sights on the fabric racks to make my own instead. Thrifting fabric is definitely the cheapest way to sew and it's a trick I've relied on for years! You can sometimes find entire bolts of fabric (look to the right of the rug shelves up above!), but even if you only repurpose pillow cases or bed sheets that you thrift, you'll have plenty of yardage to work with. This time, I went with a pretty peachy pink to make my new pillow cover.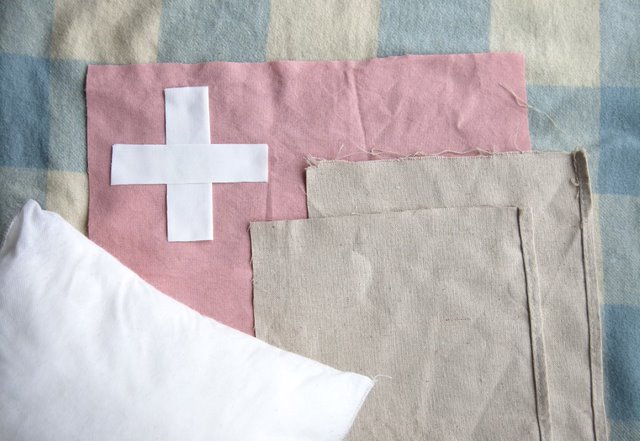 Envelope pillow covers (sometimes called pocket pillow covers) are so easy to make with basic sewing skills. You use one piece of fabric for the front of the pillow, and two pieces for the back that are both wider than the width of the pillow so they overlap. Stitch all around the outside, slide the pillow insert within the center pocket, and you're done! I added a quick Swiss cross (cut from scrap fabric) to the front of mine just for fun. It's not perfect, but it was quick and easy! You could also use felt if you want a no-stress way to keep it from fraying over time.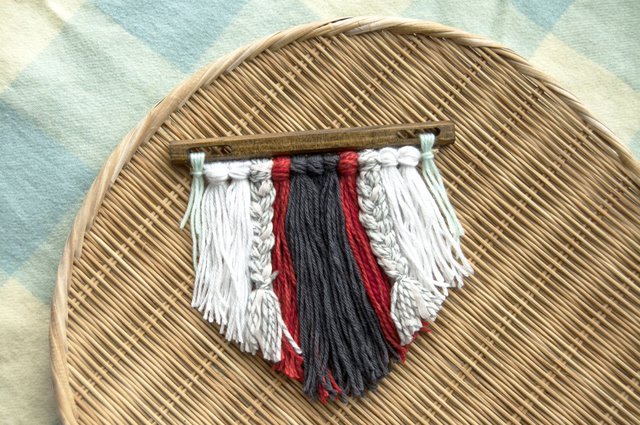 The last DIY that I did to refresh my space is a little yarn wall-hanging. The idea popped into my mind when I was poking through Goodwill and saw the wooden bar the yarn is hanging from. I still have no idea what this actually is (there were a bunch of them!), but I had to grab two because I knew I could do something neat with them. They match my headboard and floors well and I needed new decor on my walls. This was perfect. Here's how you can make one, too: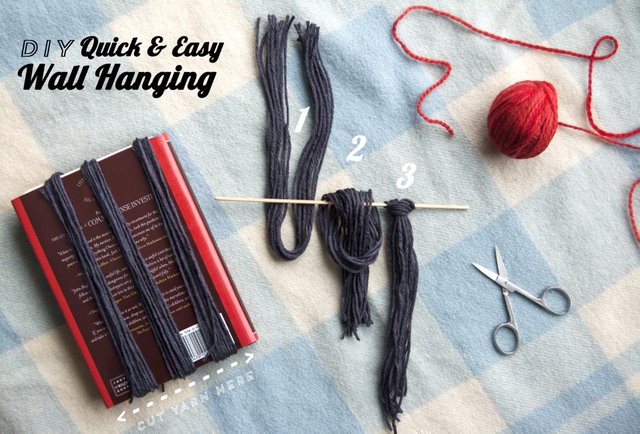 Wrap yarn around a book the same number of times for each bundle to ensure consistency in length and thickness. Always start and end your yarn at the bottom of the book, then cut the entire bundle there when you're done. Pinch the top of the bundle—this will be the exact middle—then tie it onto whatever you'd like as demonstrated above. I used a skewer so I could hang it below the wooden bar, but you could put it on almost anything. I also added a ribbon to two bunches then braided it all together for a little extra texture. Trim the bottoms as you see fit and hang! I can't wait to try this technique out on an embroidery hoop instead of a straight stick. There are so many possibilities!

Don't forget that one little room refresh like this makes a huge impact outside your four walls. How? Goodwill® organizations collect clothes, electronics and household goods (in the form of your donations!) and then use the revenues from the sales to create employment placement and job training programs. These help many people in local communities with skill building and job search services such as computer classes, job transportation, mock interviews, dress etiquette, and résumé writing. So while it seems like a thrifty room redo is just a fresh start for one room in your home, it's also a fresh start for someone in your community.
To post comments, Click Here to Login