Menu
DIY Projects for Kids of All Ages
6/12/2020
Before I became a mom, I heard a whole slew of gripes from other parents. The one that kept recurring more often than any others was "Kids are expensive!" Creativity becomes imperative for those on a budget who don't want their little ones to go without the games and goodies that make childhood special, so here are a few kid-approved projects to keep the little ones and your wallet happy…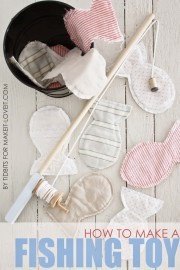 Image via makeit-loveit.com
Fishing can happen any time of any day when it's taking place right at home. I discovered this adorable little DIY fishing game lurking in the depths of Ohio Valley Goodwill Industries, Inc. (Cincinnati)'s Baby & Kids On A Budget pinboard. Reel in a few low-priced men's shirts the next time you're thrifting and get started on this project on your next rainy day! You'll feel proud creating something from scratch and might just be able to bait your kids into playing quietly for more than five minutes!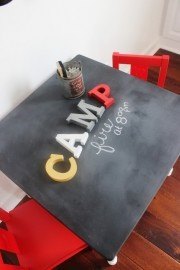 Image via DelightfullyNoted.blogspot.com
By now you probably already know that thrifting second-hand furniture is worlds cheaper than buying brand-new. That's especially true when it comes to kids' furniture! The worst part about paying full price for the furniture your kids will use is knowing that it will probably be drawn on, scratched, and stickered in no time. Why not start with furniture that is already conducive to your kids' creativity? Jennifer crafted this truly inspiring playroom and shared it on her blog, Delightfully Noted. It includes a kids' table that she scored at Goodwill for just $2 and transformed into a chalkboard to stay one step ahead of those inevitable doodles! Go ahead, little ones, draw on!
Who said everything in your kid's room can't be just as fun as the toys they request? I challenge you to turn the most boring object you can think of (a dresser, perhaps?) into something exciting for your bambinos! It really can be as simple as slapping a fresh coat of bright paint on a Goodwill bureau and swapping out the regular knobs for toys you grabbed on your way to the check out, too! I found the above project idea on Goodwill Industries of South Central Wisconsin, Inc. (Madison)'s pinboard of DIY Ideas and instantly loved its kid-friendly quirkiness.

These days I don't have to trust other parents when they tell me how costly raising a child can be because I know, first hand, that it's true. Thankfully, I drive past Goodwill every day on my way to and from work so I can easily swing in. Goodwill doesn't just help my family to live a better life, but it does so for many other families as well. Goodwill agencies have actually been recognized for their forward-thinking family financial stability practices that allow program participants as well as employees and their families to access individual education and training needs that include debit management, budget and credit counseling, and educational workshops. With familial support like that, I am proud to invest my hard-earned dollars in Goodwill stores and come home to my own family a little more inspired.
To post comments, Click Here to Login