Menu
Seven Steps to an Organized Staycation
6/12/2020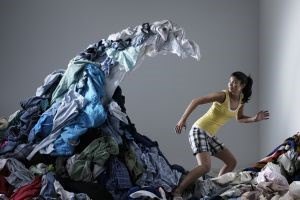 It's mid-summer already, and your summer vacation is not going entirely as planned?  No problem, just regroup and figure out how to make the best of what's left!  If you can't take a big trip somewhere else, maybe you can take a "staycation" and even get a few things done around the house.

1. First think about what causes you the most stress.  Most people have cluttered areas of their home they would love to organize if they could only find the time… what if you used some of your vacation time to knock down the stressors and return to work refreshed?  The investment of your time will be returned many times over! Make a list of the projects and cluttered spaces in your home that would benefit the most from some of your time and attention.

2.  Choose the project that will give you the biggest bang for your buck—one that will provide immediate daily benefits in efficiency and reduced stress—places that you access multiple times per day that are slowing you down.  Is it your piled up home office?  Your car not fitting into the garage?  Not being able to find anything in your closet in the mornings?

3.  Now, create a big reward for getting your project done.  Look on the web for ideas for tourism in your own city—those places you always think you should go but never do.  Pick one or two of these places out with your family, like a local theme park or museum, a scavenger hunt tour or scooter tour, or something else the whole family would enjoy doing together.

4.  Target the dates for your staycation.  A long weekend off is the perfect amount of time to tackle the project, get results, and get your fun reward.  Put it on the calendar and start counting the days!

5.  Make sure you start your project with a "disposal plan," having some idea where you are going to take extra bulk trash and locating your nearest Goodwill® donation center for convenient drop-off of your discarded decisions.  You can search at http://locator.goodwill.org online, or use the Goodwill app for your smartphone to find the best choice.

6.  Jump in and get it done.  Assign roles to each family member, like organizing piles into paper sacks for donations, sweeping, wiping off surfaces, and helping to sort and decide.  You can even create a bonus reward for getting it done faster than estimated, like a trip to get ice cream or a favorite pizza.

7. Reap your rewards!  Take your donations and trash to their respective places, store your newly sorted items, and then park that car in the garage, or admire that clean desk. Go out and enjoy your well-earned treats together as a family!

What will YOU tackle this summer?  Make sure you remember to get your kids ready for back-to-school time by donating what they've outgrown before you go shopping, so that you know better what they need and you can save time and money.  Donate and shop at Goodwill, and everybody wins!
To post comments, Click Here to Login