Menu
#GivingTuesday 2020
11/23/2020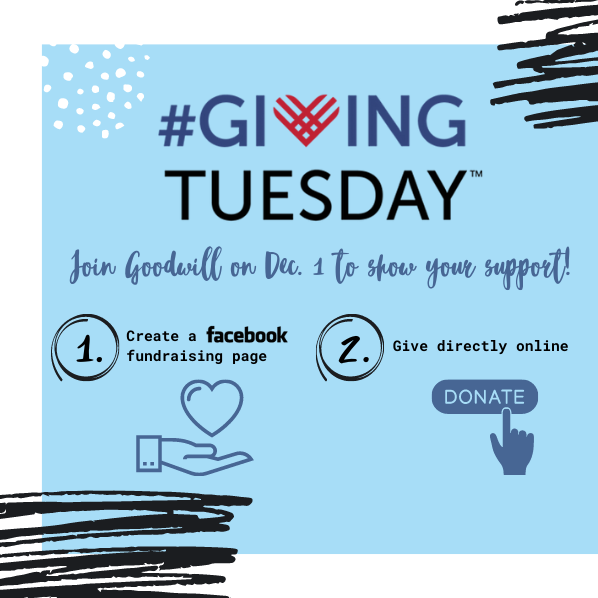 Want to join us? We are participating in #GivingTuesday this year and your contribution will make an impact, whether you donate $5 or $500. Every little bit helps. Your support is what allows us to serve hundreds of people in our community each year. Thank you!
Goodwill Industries of Tulsa provides work opportunities, job training and support services for people with disabilities or other employment barriers.
We have a goal of raising $2,500 this year! You can help us get there by either, joining the conversation online and creating a Facebook Fundraising Page, or by donating directly.
If you'd like to involve your friends and family, download the Step-by-Step instructions below on How To Create a Facebook Fundraising Page for Goodwill.

Oh, and don't forget to download the photo below with the #GivingTuesday filter
to include on your page.

If you'd like to donate directly to Goodwill,
click the link below to see how your donation strengthens our community.
MORE
About #GivingTuesday
Founded in 2012, #GivingTuesday is a global giving movement that has been built by individuals, families, organizations, businesses and communities in all 50 states and in countries around the world.
#GivingTuesday harnesses the collective power of a unique blend of partners
to transform how people think about, talk about, and participate in the giving season. It inspires people to take collective action to improve their communities, give back in better, smarter ways to the charities and causes they believe in, and help create a better world.
#GivingTuesday demonstrates how every act of generosity counts, and that they mean even more when we give together.
To learn more about #GivingTuesday participants and activities or to join the celebration of giving, please visit:
Website: www.givingtuesday.org
Facebook: www.facebook.com/GivingTuesday
Twitter: twitter.com/GivingTues
Instagram: instagram.com/GivingTuesday
p>
To post comments, Click Here to Login